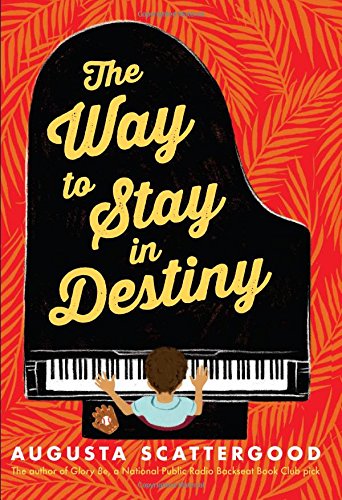 Publisher's Note:
From the author of the acclaimed GLORY BE, a novel that celebrates baseball, fast piano, and small-town living in the wake of the Vietnam War.


When Theo gets off a bus in Destiny, Florida, he's left behind the only life he's ever known. Now he's got to live with Uncle Raymond, a Vietnam War vet and a loner who wants nothing to do with this long-lost nephew. Thank goodness for Miss Sister Grandersole's Rooming House and Dance School. The piano that sits in Miss Sister's dance studio calls to Theo. He can't wait to play those ivory keys. When Anabel arrives things get even more enticing. This feisty girl, a baseball fanatic, invites Theo on her quest to uncover the town's connection to old-time ball players rumored to have lived there years before. A mystery, an adventure, and a musical exploration unfold as this town called Destiny lives up to its name.

Acclaimed author Augusta Scattergood has delivered a straight-to-the-heart story with unforgettable characters, humor, and hard questions about loss, family, and belonging.
This book was sent to Compass Book Ratings for review by Scholastic
The Way to Stay in Destiny
by Augusta Scattergood
Overall Review:
The year is 1974, Hank Aaron is dominating baseball and Theo has just had his life turned upside down. After having to leave the only home he's known, Theo is taken by his uncle to the town of Destiny, FL. Here he has to find his footing and learn to like his uncle who only seems to have contempt toward him. From the discovery of a piano, to the town's connection to the world of baseball, to a kind and loving mother figure, to a baseball loving girl--Theo slowly begins to feel at home and feel accepted. Now if only his uncle will decide to stay.
In The Way to Stay in Destiny, author Augusta Scattergood takes us back to a time that was complicated in it's own way, as she paints a vivid picture of that time period. Seen through the eyes of an eleven year old boy, who is trying to make sense of his own world that is in an upheaval, one learns to appreciate that life's complications are sometimes thrown at us and we just need to make the best of them. For Theo it was finding someone who shared the same interest and finding something to do that he not only loved, but was good at that made him want to stay in Destiny.
Content Analysis:
Profanity/Language: 1 religious exclamation.
Violence/Gore: A few brief accounts (3) of character having previously been in a war and having to shoot at people and be shot at; character recalls being called a 'baby killer'; character holds a knife menacingly while losing his temper towards another character with no direct threat made.
Sex/Nudity: None
Mature Subject Matter:
Death of parents, anti-war sentiment.
Alcohol / Drug Use:
None
Reviewed By Sally