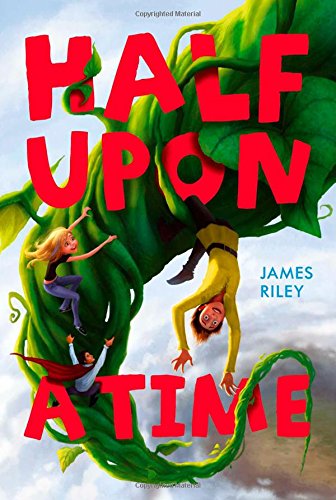 Publisher's Note:
Jack lives in a fantasy world. Really. He's the son of the infamous Jack who stole the magic beans from the giant, and he's working hard to restore his family's reputation. He finds the perfect opportunity when a "princess" lands in front of him, apparently from the land of Punk, as her Punk Princess t-shirt implies. May is from our world, and she's utterly confused to find herself in the midst of the fairy tale characters she has read about. But Jack and May have more in common than they realize--and together, they embark on a hilarious and wild adventure in this highly accessible, modern middle grade fantasy novel.

Half Upon a Time is the first book in the Half Upon a Time series.
Half Upon a Time
by James Riley
Overall Review:
Half Upon a Time by James Riley is a rollicking fairy tale. Rather than a re-telling or re-imagining of a particular fairytale, this novel includes familiar elements of well-known fairy tales into a new story. Jack, the fourteen year old protagonist, is a skeptical adventurer, but his heart is brave and he is matched word for word by a spunky May. Although this book is set in a fairy tale world rather than a modern one, the free-flowing banter among the characters and the humor is quite modern in style. The story zips along with plenty of action and twists.
This novel is the first in a completed (hooray!) trilogy so the reader can move right on to the next book in the series without a wait. Readers who loved The Hero's Guide to Saving the Kingdom books will enjoy this book, as it has the same spirit and flavor of cavalier adventuring and humor.
Content Analysis:
Profanity/Language: 2 religious exclamations.
Violence/Gore: Report (non-detailed) of fantasy violence/stories; training exercises involving swords, dragon fire, etc.; extended, but general report of encounter with magic, monster creatures involving escape and abduction; implication that a character was knocked unconscious; characters knocked unconscious upon a few separate occasions; animal kicks and chases a character; a few separate threats of violence/death; characters struggle, kick, knock unconscious with a large lollipop; injury by sword; characters purposefully cut self to get a blood sample; fight scene with sword, arrows, etc. resulting in injury with mention of blood (general descriptions); magical battle(s); report of death of a parent; character shows evidence of violence (bruises, etc.); battle with magic, knife, destruction of property.
Sex/Nudity: Characters briefly embrace.
Mature Subject Matter:
None
Alcohol / Drug Use:
None
Reviewed By Cindy