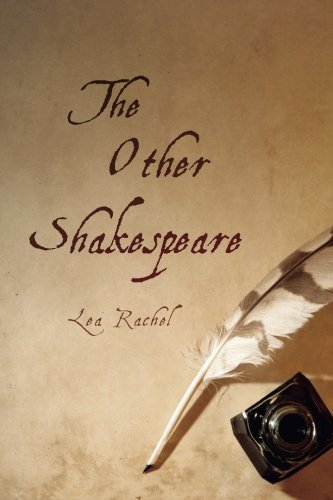 Publisher's Note:
Judith is talented, creative, and driven to accomplish great things. But, alas, she has one "shortcoming" that stands in her way—she's a woman.
Set in sixteenth-century England, The Other Shakespeare tells the tale of Judith Shakespeare, older sister to the famous William, as she struggles to develop her talent and gain acceptance in a world that won't recognize her because of her gender. Consistently denied her independence, she's forced to engage in extreme measures to get what she wants out of life—and to make difficult decisions that will shock and surprise you.
Written in the vein of character transplant novels like Grendel, Ahab's Wife, and What Happened to Anna K, Lea Rachel's novel brings new life to a character that first appeared in another publication. Judith Shakespeare was originally introduced in acclaimed author Virginia Woolf's masterpiece A Room of One's Own—and now Judith's full story is told in this speculative piece, which answers the ultimate question, "What if Shakespeare had been born a woman?"
A must-read for Woolf and Shakespeare fans alike, The Other Shakespeare combines history, social issues, and drama in a compelling story that will thoroughly entertain and enlighten.
This book was sent to Compass Book Ratings for review by Cadence Group
The Other Shakespeare
by Lea Rachel
Overall Review:
The Other Shakespeare is a well-written, thought-provoking tale. Set during the Elizabethan era, the plot revolves around the flourishing of English theatre and the tensions between Catholics and Protestants. Main character Judith is bright and engaging, and readers will no doubt be affected as she is constantly questioned and put down by the men in her life. Famous brother William is only a secondary character, but author Lea Rachel imagines several scenes of his childhood and later marriage. Rachel has done impeccable research and mixes fact with fiction, including multiple real life characters in her story. Literary gurus will be delighted to discover Shakespeare quotes and Virginia Woolf references in every chapter. Readers are invited to uncover these references and e-mail their findings to the author for prizes. Fans of English literature will not want to miss The Other Shakespeare.
Content Analysis:
Profanity/Language: 2 mild obscenities, 4 derogatory names.
Violence/Gore: Several secondhand reports of violence including mention of death at the Tower of London, a schoolmaster striking children's arms and the final death scene in Romeo and Juliet; a few brief scenes of violence including a child slapped by a parent; a character commits suicide in a non-detailed scene of violent death.
Sex/Nudity: A few incidents of kissing; several sexual references and implied or reported accounts of sexual activity including prostitutes and brothels; a few incidents of touching a character's breasts; a non-detailed scene of rape of a minor; a scene of sexual activity without details, between adults.
Mature Subject Matter:
Gender roles, infidelity, religious persecution, rape.
Alcohol / Drug Use:
Several scenes take place in a pub where characters frequently drink ale.
Reviewed By Rachel