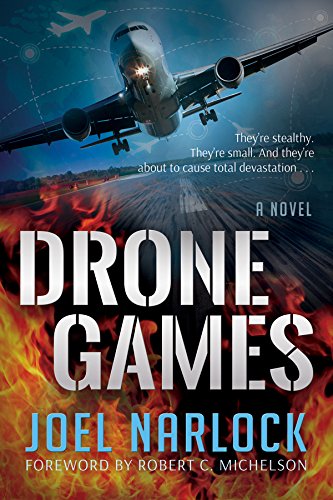 Publisher's Note:
It's domestic terrorism as you've never seen it before. An al-Qaeda cell uses cutting-edge drone technology to circumvent post-9/11 airport security measures. Within eight hours, two planes crash. The President faces an unthinkable decision: ground all planes—and the economy—or keep flying and risk more deaths. Based on real-life technology, Drone Games is a fascinating fictional account of terrorism's future.
This book was sent to Compass Book Ratings for review by Sweetwater Books
Drone Games
by Joel Narlock
Overall Review:
Ever wanted to get in the head of a terrorist? This book will give you the opportunity, or close to it at least. The story starts out a bit slow, but it's because the plot requires several events to occur that lead up to the main action and a lot of information is needed for it all to make sense. Author Joel Narlock's attention to detail is second to none. I can't imagine the insane amount of time he must've spent researching everything. The way Narlock portrays the characters who are terrorists is so interesting, you almost understand why they do what they do--even if you don't agree with their horrific actions.
This story is a reminder of the countless number of people who are affected by a terrorist attack. Luckily the events that occur are fictional but it's chilling to even consider the possibility of it all. The ending has a bit of a cliffhanger but I'm not sure if there will be a sequel or if he was just setting it up for our imaginations to run wild. The author biography at the conclusion of the novel mentions that Narlock loves asking "what if". If you are that kind of person, then this is a perfect read for you. Those who enjoy action with a little mystery will enjoy it as well.
Content Analysis:
Profanity/Language: 1 scatalogical word.
Violence/Gore: Many (33) brief incidents including character getting killed in video game; references to potential death and the potential to kill; threats; character reads instructions on how to kill; thinking about killing people; implication of spousal physical abuse and if occurs again, she'll kill him; second hand report of bomb threat; reference to 9/11; book references killing; second hand report of suicide; a few references to killings and execution; second hand report of train derailment with no fatalities; hunting story; reference to how many kills a soldier has; second hand report of plane crashes resulting in death of many; second hand report of murder and suicide case; second hand report of child receiving non-life threatening injury; story of animals being turned to stone; characters fishing; sea animals eating other sea animals; cars blown up without people inside; plane crash resulting in death of many; suicide bomber.
Two extended incidents of characters referencing terrorist attacks and planning them.
Sex/Nudity: Several (18) brief incidents including flirting; hugging; arm around; holding hand; squeezing arm; kissing; innuendo; reference to male escorts; song referencing sex; reference to man improperly touching women; women referred to as seducers; insinuation that all Americans are obsessed with open sexuality; reference to "bumping and grinding".
Mature Subject Matter:
Murder, suicide, war, terrorism.
Alcohol / Drug Use:
Mention that Americans are obsessed with alcohol; drinking at a party; character smokes pipe; character drinks beer at home; reference to an alcoholic; drinking with dinner.
Reviewed By Jenny