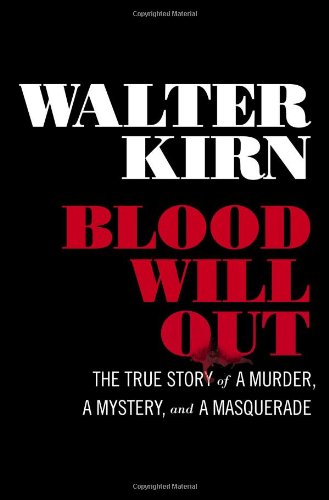 Publisher's Note:
An In Cold Blood for our time, a chilling, compulsive story of a writer unwittingly caught in the wake of a grifter-turned-murderer. In the summer of 1998, Walter Kirn—then an aspiring novelist struggling with impending fatherhood and a dissolving marriage—set out on a peculiar, fateful errand: to personally deliver a crippled hunting dog from his home in Montana to the New York apartment of one Clark Rockefeller, a secretive young banker and art collector who had adopted the dog over the Internet. Thus began a fifteen-year relationship that drew Kirn deep into the fun-house world of an outlandish, eccentric son of privilege who ultimately would be unmasked as a brazen serial impostor, child kidnapper, and brutal murderer.
Kirn's one-of-a-kind story of being duped by a real-life Mr. Ripley takes us on a bizarre and haunting journey from the posh private clubrooms of Manhattan to the hard-boiled courtrooms and prisons of Los Angeles. As Kirn uncovers the truth about his friend, a psychopath masquerading as a gentleman, he also confronts hard truths about himself. Why, as a writer of fiction, was he susceptible to the deception of a sinister fantasist whose crimes, Kirn learns, were based on books and movies? What are the hidden psychological links between the artist and the con man? To answer these and other questions, Kirn attends his old friend's murder trial and uses it as an occasion to reflect on both their tangled personal relationship and the surprising literary sources of Rockefeller's evil. This investigation of the past climaxes in a tense jailhouse reunion with a man whom Kirn realizes he barely knew—a predatory, sophisticated genius whose life, in some respects, parallels his own and who may have intended to take another victim during his years as a fugitive from justice: Kirn himself.
Combining confessional memoir, true crime reporting, and cultural speculation, Blood Will Out is a Dreiser-esque tale of self-invention, upward mobility, and intellectual arrogance. It exposes the layers of longing and corruption, ambition and self-delusion beneath the Great American con.
Blood Will Out: The True Story of a Murder, a Mystery, and a Masquerade
by Walter Kirn
Overall Review:
I haven't read In Cold Blood, but after reading this book, and hearing about the similarities, I think I just might have to. If you have trouble getting excited over a non-fiction book, or think that you only like fiction or mystery novels, you just might be surprised at how gripping this book is. I had heard it was a good read, but I never know who can be relied upon in the library world to recommend a "good book" to me personally.
This book reads much like a newspaper story, but with a lot more detail. I liked that aspect of it. It was like seeing a really intriguing headline and being able to immerse myself in the chilling story all day, instead of for just a few moments. There were some parts of this book that were far more interesting and fast-paced than others, but for the most part, I was pleasantly surprised at how engaging this story was. This is the story of a man that seems to be an average human being. He might be a little richer, and a little better dressed than some, but he just because he lives a life that is more privileged than you and I doesn't make him into a better or worse person...or so we think.
Even the most careful person can't go their whole lives hiding from a crime they have committed. Eventually they will be found out, or that is the way it seems to be. This book proves this point to be true and it also shows that the most unsuspicious people might just have a secret lurking in their past. Even if you don't read non-fiction, you should try Blood Will Out. I bet you'll be happy you decided to take the time to read this terrifyingly true story.
Content Analysis:
Profanity/Language: 2 scatological words; 1 anatomical term; 1 F-Word derivative.
Violence/Gore: An animal is hit by a car and injured; a stabbing is mentioned to occur; an abduction takes place and is briefly described; suicide by slitting wrists is mentioned; a murder trial is attended and the dead bodies are described; a maimed body is briefly described; methods of murder are mentioned; blood and gore are described.
Sex/Nudity: Sex is referred to; sex is implied to have taken place between adults; a sex scandal is mentioned to occur.
Mature Subject Matter:
Divorce, betrayal, murder, death, child abandonment.
Alcohol / Drug Use:
Adults smoke; adults drink; drug use and drug addicts are mentioned.
Reviewed By Lydia