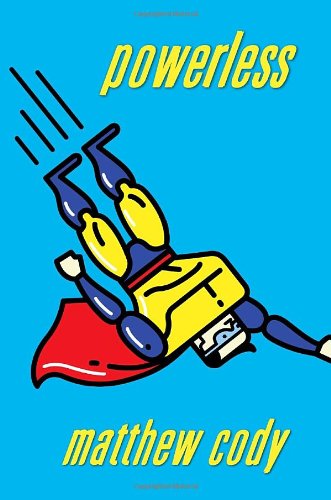 Publisher's Note:
Twelve-year-old Daniel, the new kid in town, soon learns the truth about his nice—but odd—new friends: one can fly, another can turn invisible, yet another controls electricity. Incredible. The superkids use their powers to secretly do good in the town, but they're haunted by the fact that the moment they turn thirteen, their abilities will disappear—along with any memory that they ever had them. Is a memory-stealing supervillain sapping their powers?

The answers lie in a long-ago meteor strike, a World War II–era comic book (Fantastic Futures, starring the first superhero, Johnny Noble), the green-flamed Witch Fire, a hidden Shroud cave, and—possibly, unbelievably—"powerless" regular-kid Daniel himself.

Superhero kids meet comic book mystery in this action-filled debut about the true meaning of a hero.
Powerless
by Matthew Cody
Overall Review:
Refreshingly, Powerless is a superhero story about a truly ordinary hero. In this solidly-crafted story, the reader follows twelve year-old Daniel, the new kid in town, as he discovers that some of the kids in Noble Green, Pennsylvania may have the powers of superheroes, but they are powerless to hold onto those abilities after their thirteenth birthday. Distinct characters with believable dialogue move the story forward while quietly touching on the various ways people feel powerless. Our current culture is awash with portrayals of superheroes in movies and literature, but Powerless takes a fresh angle on that storyline. The plot takes unforeseen twists before being deftly wrapped-up by the author, who simultaneously sets the stage for future storyline possibilities. This book reminds us that we are never truly powerless and that real heroes are defined by their choices. Excellent!
Content Analysis:
The violence consists of non-graphic fights and battles amongst superheroes usually involving throwing, pushing, collisions, and such.
Only one mild profanity was noted.
Mature Subject Matter:
***
Alcohol / Drug Use:
***
Reviewed By Cindy