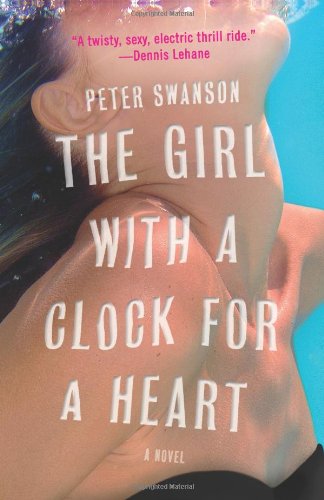 Publisher's Note:
Already optioned for film, The Girl with a Clock for a Heart is Peter Swanson's electrifying tale of romantic noir, with shades of Hitchcock and reminiscent of the classic movie Body Heat. It is the story of a man swept into a vortex of irresistible passion and murder when an old love mysteriously reappears.
On an ordinary Friday evening at his favorite Boston tavern, George Foss's comfortable, predictable life is shattered when a beautiful woman sits down at the bar, a woman who vanished without a trace twenty years ago.
Liana Dector isn't just an ex-girlfriend, the first love George couldn't quite forget. She's also a dangerous enigma and quite possibly a cold-blooded killer wanted by the police. Suddenly, she's back—and she needs George's help. Ruthless men believe she stole some money . . . and they will do whatever it takes to get it back.
George knows Liana is trouble. But he can't say no—he never could—so he makes a choice that will plunge him into a terrifying whirlpool of lies, secrets, betrayal, and murder from which there is no sure escape.
Bold and masterful, full of malicious foreboding and subtle surprises, The Girl with a Clock for a Heart is an addictive, nonstop thriller—an ever-tightening coil of suspense that grips you right up to its electrifying end.
The Girl with a Clock for a Heart: A Novel
by Peter Swanson
Overall Review:
Are you looking for a good mystery to curl up with? Every once in a while a real thriller is the only thing that will satisfy. I started reading this book without knowing anything about it--except that the title was cool. This book was a good one to read slowly and really ponder, so if you don't have time to dedicate to it right now, perhaps put it on your TBR list.
At the beginning of this book, I had a little trouble getting immersed in the story, but once it got going, the author's train of thought seemed to gather momentum until the story was speeding down a dark track of mystery and suspense. I typically read books narrated by females, but every now and then a male sneaks his way into a story. The Girl with a Clock for a Heart is told from the perspective of George Foss, a man who leads a lonely life for the most part. He has his little routines and knows what he likes and dislikes. Everything is going just fine for him, until something happens to make him realize it's not, and then everything falls apart in an instant.
When an old college romance is unearthed, George is happily surprised. Until he realizes it could cause more trouble for him than he thought--trouble that comes in the form of lies, stealing, and maybe even murder. There were lots of plots and plans in this book, but not so many that it left the reader confused. I was surprised several times at how sneaky the author was at slipping things past me. After all, when you can get through half a book and not realize one of the main characters isn't really who you thought they were, that is a sign of some good mystery writing skills.
Content Analysis:
Profanity/Language: 10 religious exclamations; 2 mild obscenities; 3 scatological words; 4 anatomical terms; 17 F-Word derivatives.
Violence/Gore: A character is suspected of murder; a girl is mentioned to have committed suicide; a character is found dead; a character has a heart attack and dies; a woman is threatened verbally, she fears she might be raped or murdered; a character goes missing; verbal threats are made; a hit and run occurs; dead bodies are briefly described; an abduction occurs of drugged adults.
Sex/Nudity: College students (minors) are mentioned to make out; casual sex between adults is mentioned; minors are mentioned to be sexually active, one brief scene of innuendo and nudity is described; an affair is mentioned; sex and nudity are mentioned with no description; sexual favors are mentioned; several instances of sexual innuendo occur between adults.
Mature Subject Matter:
Death, murder, missing persons, personal crises.
Alcohol / Drug Use:
Drug paraphernalia is mentioned; college students drink; adults drink; adults smoke; smoking weed is mentioned (adults); adults drugged and abducted.
Reviewed By Lydia