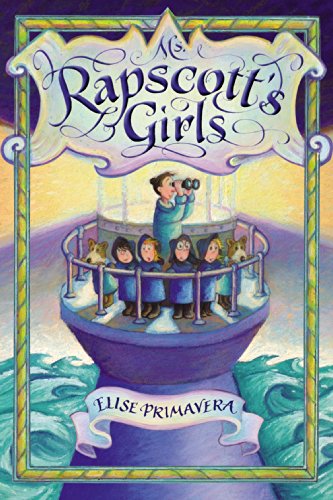 Publisher's Note:
Fans of Mary Poppins will love this whimsical tale of a boarding school for children of very busy parents, where an extraordinary headmistress teaches them life lessons about courage, adventure, friendship . . . and the importance of birthday cake.

Nestled inside a lighthouse, Great Rapscott School for the Daughters of Busy Parents takes its motto from Amelia Earhart: Adventure is worthwhile in itself. Headmistress Ms. Rapscott couldn't agree more, but her students, who are shipped to the school in boxes, could use a little convincing. Still, despite their initial reluctance, the students are soon soaring through the sky and getting lost on purpose. In addition to learning what birthday cakes are and how best to approach a bumbershoot tree, the students also manage to learn a little something about strength and bravery.

Bestselling author Elise Primavera has created an irresistible, richly illustrated story about finding your way.
This book was sent to Compass Book Ratings for review by Dial Books for Young Readers
Ms. Rapscott's Girls
by Elise Primavera
Overall Review:
Ms. Rapscott's Girls is a delightful novel that is sure to appeal to kids, as well as parents. Ms. Rapscott herself is a quirky combination of Mary Poppins and Mrs. Piggle-Wiggle. She brings girls to her boarding school that have been dreadfully neglected by their very busy parents. Each girl comes with her own set of problems and Ms. Rapscott is set on reforming them. However, her methods are quite unconventional, very amusing, and somewhat whimsical. Along the way she also teaches them the common sense kind of things that they should have been learning all along from their parents. Just like Mary Poppins, she uses a bit of magic, which adds to the fun of this novel. It's this magic that helps her get through to the girls, who add their own sort of fun with their "problems".
The storyline is fast paced and descriptively written by veteran writer Elise Primavera, and is sure to please even the advanced younger readers. And the best part is that this book just covers the couple weeks leading up to their first term at school and the girls are not even close to being reformed, so there is hope that this storyline is set to continue.
Review was of an Advance Review Copy
Content Analysis:
Profanity/Language: None
Violence/Gore: None
Sex/Nudity: None
Mature Subject Matter:
Neglectful parenting.
Alcohol / Drug Use:
None
Reviewed By Sally