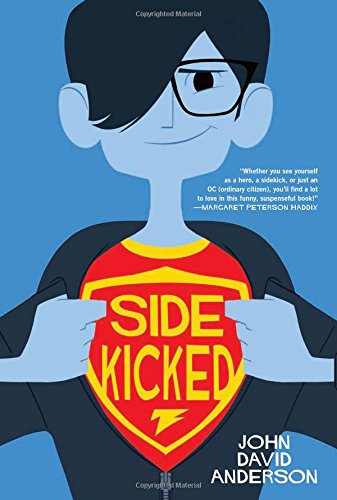 Publisher's Note:
The Avengers meets Louis Sachar in this hilarious and action-packed tween novel by John David Anderson, which Publishers Weekly called a "superhero story that any comics fan will enjoy" in a starred review.
Andrew Bean might be a part of H.E.R.O., a secret organization for the training of superhero sidekicks, but that doesn't mean that life is all leaping tall buildings in single bounds. First, there's Drew's power: Possessed of super senses—his hearing, sight, taste, touch, and smell are the most powerful on the planet—he's literally the most sensitive kid in school. Then there's his superhero mentor, a former legend who now spends more time straddling barstools than fighting crime. Add in trying to keep his sidekick life a secret from everyone, including his parents, and the truth is clear: Middle school is a drag even with superpowers.
But this is all before a supervillain long thought dead returns to the city of Justicia, superheroes begin disappearing at an alarming rate, and Drew's two identities threaten to crash head-on into each other. Drew has always found it pretty easy to separate right from wrong, good from evil. It's what a superhero does. But what happens when that line starts to disappear?
Sidekicked
by John David Anderson
Overall Review:
Sidekicked by John David Anderson gives us a superhero story from the viewpoint of a thirteen year old sidekick--a slightly nerdy sidekick with some unexciting superpower abilities. Told in first person by Andrew Bean (aka The Sensationalist), Drew has a constant monologue and commentary running in his head at all times, which is quite entertaining and funny. Interesting supporting characters, plentiful humor, action, a plot with some twists--there is a lot to like here. The author also uses a light touch on some philosophical issues which is just enough to make the reader think a bit without things turning preachy or becoming pat. All-in-all it is a satisfying and balanced novel.
Sidekicked is great guy read and it will find a sweet spot especially with ten to thirteen year olds, but anyone who loves all things superhero will enjoy this action-filled, humorous story. The novel is not a set-up for a series (hooray!), but a companion novel, Minion, did come out this summer. If you love Sidekicked, then try The Cloak Society Series by Kraatz, which is tells the story from the villain's perspective.
(Incidentally, the author's name is frightfully normal--could it perhaps just be a secret identity name?)
Content Analysis:
Profanity/Language: 6 religious exclamations; 2 mild obscenities; 2 scatological words.
Violence/Gore: Verbal threats of death, destruction, etc.; character is punched; reports of past super-action activity resulting in deaths; report of death of parent in an accident; report of a prison break; general reports of super-hero activity such as crushing mechanical spiders, detonating grenades in armpit, etc.; report of death from cancer; collision resulting in bloody nose; character knocked over/tackled; character participate in training exercises for fighting; clips of video viewed of a bank robbery; a few extended super-hero type fight scene with a lot of throwing of objects, knocking unconscious, etc. minor injuries; characters abducted; character knocked unconscious; character slapped across face resulting in nose bleed; character tackled, falls to death.
Sex/Nudity: Male notices how a girl's butt looks in gym shorts; passing comment "He's gay"; character sees a girl kiss a guy "tongue included"; characters kiss/hold hands; character listens to other people's conversations and learns that a female likes a certain male, but that male likes a male.
Mature Subject Matter:
Death, criminal activity, lying.
Alcohol / Drug Use:
An adult character drinks heavily and is found in a bar.
Reviewed By Cindy