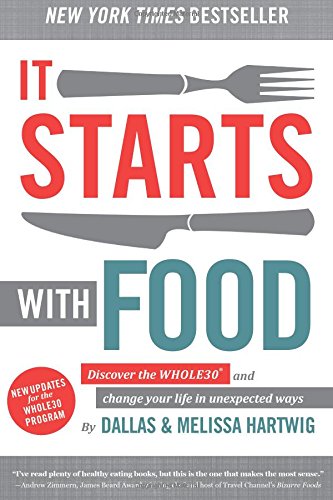 Publisher's Note:
IMAGINE YOURSELF HEALTHIER THAN YOU EVER THOUGHT POSSIBLE.
IT STARTS WITH FOOD.

It Starts With Food outlines a clear, balanced, sustainable plan to change the way you eat forever—and transform your life in profound and unexpected ways. Your success story begins with the Whole30®, Dallas and Melissa Hartwig's powerful 30-day nutritional reset.

Since 2009, their underground Whole30 program has quietly led tens of thousands of people to weight loss, enhanced quality of life, and a healthier relationship with food—accompanied by stunning improvements in sleep, energy levels, mood, and self-esteem. More significant, many people have reported the "magical" elimination of a variety of symptoms, diseases, and conditions in just 30 days.
diabetes
high cholesterol
high blood pressure
obesity
acne
eczema
psoriasis
chronic fatigue
asthma
sinus infections
allergies
migraines
acid reflux
Crohns
celiac disease
IBS
bipolar disorder
depression
Lyme disease
endometriosis
PCOS
autism
fibromyalgia
ADHD
hypothyroidism
arthritis
multiple sclerosis

Now, Dallas and Melissa detail not just the "how" of the Whole30, but also the "why," summarizing the science in a simple, accessible manner. It Starts With Food reveals how specific foods may be having negative effects on how you look, feel, and live—in ways that you'd never associate with your diet. More important, they outline their lifelong strategy for eating Good Food in one clear and detailed action plan designed to help you create a healthy metabolism, heal your digestive tract, calm systemic inflammation, and put an end to unhealthy cravings, habits, and relationships with food.

Infused with the Hartwigs' signature wit, tough love, and common sense, It Starts With Food is based on the latest scientific research and real-life experience, and includes testimonials, a detailed shopping guide, a meal-planning template, a Meal Map with creative, delicious recipes, and much more.
It Starts With Food: Discover the WHOLE30 and Change Your Life in Unexpected Ways
by Dallas & Melissa Hartwig
Overall Review:
New York Times bestseller, It Starts With Food: Discover the WHOLE30 and Change Your Life in Unexpected Ways, is co-authored by husband and wife team Dallas and Melissa Hartwig. Not only do the authors share their own experience, but use the testimonials of others who have changed their lives by changing what they eat. In fact, each chapter has a brief testimonial introduction from people who have actually experienced completing the Whole30. For those who need more than someone else's personal experiences to be convinced, this is the book for you. Conjoined with the personal confirmations is the science, the "why" behind it all.
Readers will be presented with revealing experiences, scientific studies and experiments. The authors do more than preach, they teach. They teach you how to discover for yourself what foods work for you, what foods make you more healthy or less healthy, specifically individualized. How? By turning yourself into the science experiment. Now you no longer have to wonder, you 100% know because you were the subject in the test, not some xyz animal or another individual. This may sound new age-y or a bit radical, but it's actually a very sound and simple approach based upon what the authors refer to as "Good Food Standards" Does the food you eat-
1) Promote a healthy psychological response?
2) Promote a healthy hormonal response?
3) Support a healthy gut?
4) Support immune function and minimize inflammation?
Written in a clear, concise, but also friendly manner, the book approaches readers who are less than familiar with nutritional science terms (what the authors refer to as the "science-y stuff") and simplifies the nitty-gritty into what can be called "average joe" understanding. Thrown into the mix, are at times, humorous analogies that make the "science-y stuff" well worth the pursuit. The chapter regarding hormones is probably the most complicated to understand (the authors even say so). Don't let this chapter be your undoing, stick with it, you'll be surprised, maybe even become enthusiastic in what you are able to understand and learn. You may even be convinced to actually try a Whole30 for yourself, because as the book so richly states, it starts with food, but really that's a choice that starts with YOU!
Content Analysis:
Profanity/Language: None
Violence/Gore: None
Sex/Nudity: The word estrogen is described as a, "female sex hormone".
Mature Subject Matter:
None
Alcohol / Drug Use:
A few brief (less than 10) mentions of alcohol/alcoholic beverages/tobacco products; the word "heroine" appears once.
Reviewed By MaryLou