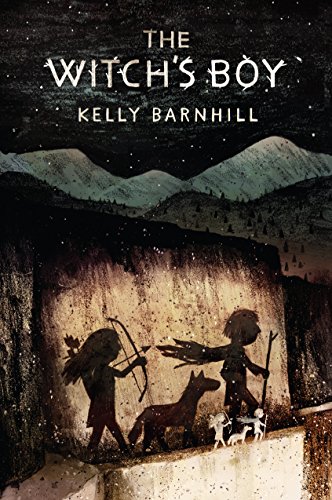 Publisher's Note:
The wrong boy will save your life, and you will save his.
When Ned and his identical twin brother tumble from their raft into a raging river, only Ned survives. Villagers are convinced the wrong boy lived. But when a Bandit King comes to steal the magic Ned's mother, a witch, is meant to protect, it's Ned who safeguards the magic and summons the strength to protect his family and community.

Meanwhile, across the enchanted forest that borders Ned's village lives Áine, the resourceful and pragmatic daughter of the Bandit King, who is haunted by her mother's last wordsto her: "The wrong boy will save your life and you will save his." When Áine's and Ned's paths cross, can they trust each other long enough to stop the war that's about to boil over between their two kingdoms?
The Witch's Boy
by Kelly Barnhill
Overall Review:
Kelly Barnhill is an author who knows how to put words together. (Actually, that is perhaps a colossal understatement.) Although the title The Witch's Boy isn't riveting and the book's cover isn't particularly fetching (in fact, it is almost misleading with its caveman-like styling), the narrative voice is exquisite. This middle grade novel has a true storyteller's voice and is essentially a fairytale. The reader can't help but to love Ned, the witch's boy, and Aine, the bandit king's daughter. Add in mischievous magic, a droll queen, a loyal wolf, mysterious stones, and much more, and one has a truly charming tale.
That said, this may be the kind of children's book that adults love, but that not all children appreciate. There is plentiful poetry disguised as prose and truths revealed that perhaps only an older reader would recognize. While the dénouement is appropriate for the story, it is quite prolonged for a younger reader. I am curious as to how this story would be received by young readers accustomed to full-throttle action, but young fairytale lovers should definitely give this book a try and it has a strong male protagonist/presence which is always a plus for young, male readers. Ultimately, it is the voice and the writing that makes this book shine so brilliantly.

Content Analysis:
Profanity/Language: 4 religious exclamations; 4 mild obscenities.
Violence/Gore: Death by drowning; eerie scene of magic; report of death by magic; character pushed to ground; hitting/punching; character tied, gagged, and abducted; animal killed with arrow, mention of blood; character is kicked; story told of time long ago in which an old woman is run through with a sword and another character is killed; magic burns a character's skin upon multiple, separate occasions; character suffers severe injury from fall with brief description of broken bones and mention of blood; character is poisoned in attempted murder; character shot in leg by arrow; animal hit with stone (on purpose), implied death; character is kicked in face resulting in loss of teeth and a mention of blood; character shot with arrow resulting in death; armies gather for battle and fighting begins (general descriptions).
Sex/Nudity: Characters briefly embrace, hold hands--could be interpreted as merely platonic.
Mature Subject Matter:
Death of a family member, death of a parent, criminal activity (banditry), war, attempted murder.
Alcohol / Drug Use:
Adults drink wine.
Reviewed By Cindy