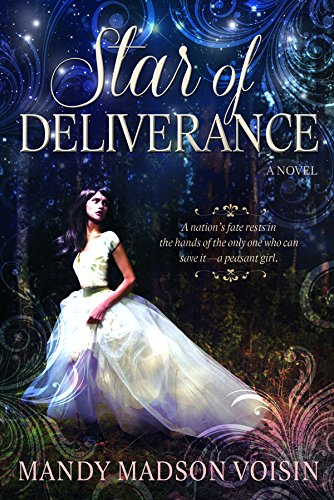 Publisher's Note:
Born a slave and outcast, the young healer Emi discovers an ancient disease spreading among her people. Desperate, she races to the Capital for a cure and unwittingly finds herself in a competition to win over the Crown Prince's heart. Staying in the game provides time to search for a cure, but it may cost Emi her life-or her heart.
This book was sent to Compass Book Ratings for review by Sweetwater Books
Star of Deliverance
by Mandy Voisin
Overall Review:
The Bible story of Esther meets Shannon Hale's Princess Academy in Star of Deliverance. Mandy Madson Voisin's debut novel is brilliant. She took some elements from the incredible, well-known story of Esther so it remains recognizable but made it her own. While it is similar to Esther's story, there's nothing religious about this book, but it is very uplifting. Some parts are heartbreaking and yet others are heartwarming. Friendships are tested, prejudice runs rampant, and evil worms it way into the powers that be. Voisin builds fantastic characters who you'll hope will find their way into a sequel. Feelings of apprehension will keep the pages turning as you rush to see the outcome of this captivating tale.
Content Analysis:
Profanity/Language: None

Violence/Gore: Many (29) brief incidents including several verbal threats; second hand report of slaves dying; reference to parents of young children dying; mention that characters will be beat if they break the law; character unconscious from illness; second hand report of murder; potential for character to be killed; character falls, gets hurt and passes out; story of characters dying during difficult hike; character nearly dies and another gets severely injured during an accident; genocide; character dreams about someone dying; character worries about another getting killed; characters get in a fight with no injuries resulting beyond bruises; mention of books about war; character trains to use weapons to potentially injure or kill others; second hand report of sword wound; character receives non-life threatening injury during sword fight; character cuts self to create disguise (non-life threatening); death from sickness; second hand report of character getting hung.
Sex/Nudity: Several (13) brief incidents including flirting; dancing at several balls; touching arm and face; holding hands; hug; arm around; kiss.
Mature Subject Matter:
Slavery, children dying, death of parent(s), prejudice, murder, genocide.
Alcohol / Drug Use:
Characters drink alcohol at a party.
Reviewed By Jenny