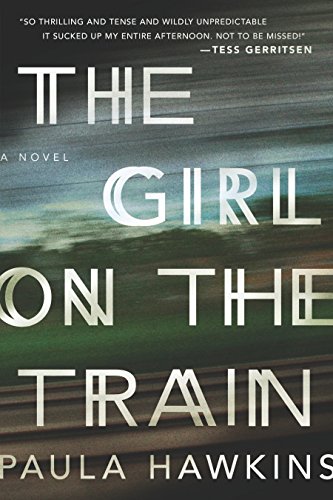 Publisher's Note:
A debut psychological thriller that will forever change the way you look at other people's lives.

Rachel takes the same commuter train every morning. Every day she rattles down the track, flashes past a stretch of cozy suburban homes, and stops at the signal that allows her to daily watch the same couple breakfasting on their deck. She's even started to feel like she knows them. "Jess and Jason," she calls them. Their life—as she sees it—is perfect. Not unlike the life she recently lost.

And then she sees something shocking. It's only a minute until the train moves on, but it's enough. Now everything's changed. Unable to keep it to herself, Rachel offers what she knows to the police, and becomes inextricably entwined in what happens next, as well as in the lives of everyone involved. Has she done more harm than good?

Compulsively readable, The Girl on the Train is an emotionally immersive, Hitchcockian thriller and an electrifying debut.
The Girl on the Train: A Novel
by Paula Hawkins
Overall Review:
How to begin a review of such a stunning book? I feel like anything I can say about this novel will be like a drop in the ocean compared to what it really is. To know the full impression this book made on me as a reader, you will have to just read it yourself. I didn't have any preconceived notions before I started, but I sure didn't think I would be sucked into this story as fully as I was. I am still in awe of the author's talent at writing such an outstanding debut!
Some of my favorite parts of this book are the moments when one of the main characters in this book, who daily makes a long trip on (you guessed it) a train, rides to work. Instead of being bored to death by her long ride, she makes the most of it by looking out the windows at the scenery around her. This might sound like just a nice way to pass the time, and it is, until one day she notices something that just seems off. One of the people she usually sees as she passes by in the train car seems to be up to something. Something that Rachel can't be sure is real, or all in her head, but when she gathers more clues and evidence, she becomes certain something is not right.
This book reminded me of Gone Girl in all the right ways. It had just enough suspense and reality to keep me feeling like I was watching a well-cast movie. I could imagine every scene in my head just as vividly as if I were watching a picture on a screen. Whether you enjoy mysteries and thrillers or not, this is a book you do not want to miss!
Review of Advance Reader Copy
Content Analysis:
Profanity/Language: 8 religious exclamatios; 4 mild obscenities; 1 derogatory name; 7 scatological words; 11 F-Word derivatives
Violence/Gore: A character is verbally abusive; a character cuts a finger and blood is briefly mentioned; a character is verbally and physically threatened; a character is mentioned to be crushed by a train and killed upon impact; a man is mentioned to brutally murder his family; a character goes missing; verbal threats are made; a woman attacks a man with a golf club; a character is harassed verbally; a character is mentioned to be violent when drunk; a character has a memory of blood on their hands, and perhaps committing a violent crime, but can't remember anything specific; a character is injured and can't remember how, but blood is briefly described when they discover a head wound; a man chokes a woman in an attempt to murder her.
Sex/Nudity: Adults kiss multiple times; sex is implied between adults several times; oral sex is mentioned once; an affair is mentioned; a sexually explicit email is referred to; a woman is mentioned to have many lovers.
Mature Subject Matter:
Divorce, abortion, death, personal crises.
Alcohol / Drug Use:
Adults drink; a woman is mentioned to be an alcoholic.
Reviewed By Lydia