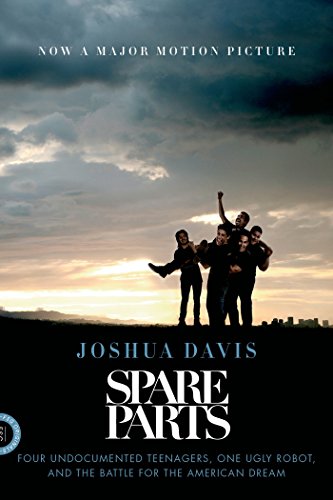 Publisher's Note:
In 2004, four Latino teenagers arrived at the Marine Advanced Technology Education Robotics Competition at the University of California, Santa Barbara. They were born in Mexico but raised in Phoenix, Arizona, where they attended an underfunded public high school. No one had ever suggested to Oscar, Cristian, Luis, or Lorenzo that they might amount to much—but two inspiring science teachers had convinced these impoverished, undocumented kids from the desert who had never even seen the ocean that they should try to build an underwater robot.
And build a robot they did. Their robot wasn't pretty, especially compared to those of the competition. They were going up against some of the best collegiate engineers in the country, including a team from MIT backed by a $10,000 grant from ExxonMobil. The Phoenix teenagers had scraped together less than $1,000 and built their robot out of scavenged parts. This was never a level competition—and yet, against all odds . . . they won!
But this is just the beginning for these four, whose story—which became a key inspiration to the DREAMers movement—will go on to include first-generation college graduations, deportation, bean-picking in Mexico, and service in Afghanistan.
Joshua Davis's Spare Parts is a story about overcoming insurmountable odds and four young men who proved they were among the most patriotic and talented Americans in this country—even as the country tried to kick them out.
This book was sent to Compass Book Ratings for review by Farrar Straus and Giroux
Spare Parts: Four Undocumented Teenagers, One Ugly Robot, and the Battle for the American Dream
by Joshua Davis
Overall Review:
A quick read, Spare Parts by Joshua Davis, is probably a book that everyone should read. Written in straight-forward journalistic prose, author Davis tells the true and inspiring story of four high school teenagers and two teachers, who against all odds managed to defeat elite college teams in a national underwater robotic competition. This is the kind of story everyone loves and especially Hollywood--who is releasing a movie in January 2015 inspired by this real-life event. However, the importance of this book is probably not so much the direct path to the event, but the events proceeding it and events after it. Davis lays out the background of each student and teacher from their childhood until they come together at Carl Hayden High School, which is critical to providing context. He also continues to follow the story after the competition--the lives of the competitors and the effect on the robotics program at Carl Hayden. Again, this provides important perspective and gives us what is so often missing from today's journalist reporting: thoroughness, depth, and context without an agenda, opinion, or scripted solution.
This book is a catalyst to thinking and discussing the issues of immigration in this country, which is a timely issue. As I type, President Obama is expected to imminently annouce executive action on this matter. I found myself moving beyond the soundbites that circulate to consider this nuanced issue from alternate angles.
Although this book is not technically a young adult book, it is a great fit for that group--especially teenage male readers. It is about a bunch of guys in their age demographic with some relate-able engineering solutions that just might inspire future robotic engineers. I am planning to hand it off next to my fifteen year old son, who plans on becoming an engineer.
Content Analysis:
Profanity/Language: 4 religious exclamations; 7 mild obscenities; 1 derogatory name; 2 scatological words; 10 anatomical terms.
Violence/Gore: Kid punches another kid in the nose; report of dog bite; report of migrants being shot; brief scene in which a pig is butchered, descriptive and mention of blood; report of students attacking another student--knocking off bike, kicking; brief reports of shootings/killings in Mexico and bodies in the street; reference to fighting in Afghanistan.
Sex/Nudity: Reference to prostitution; reference to Hooters; reference to periods; tampons purchased for use in robotic competition (non-sexual); individuals kiss.
Mature Subject Matter:
Illegal immigration, immigration issues, politics, bullying, racial profiling, racial discrimination.
Alcohol / Drug Use:
Reference to an alcoholic father; reference to drug-dealing; seventh grader asked to carry and deliver weed; report that someone was found in possession of marijuana.
Reviewed By Cindy