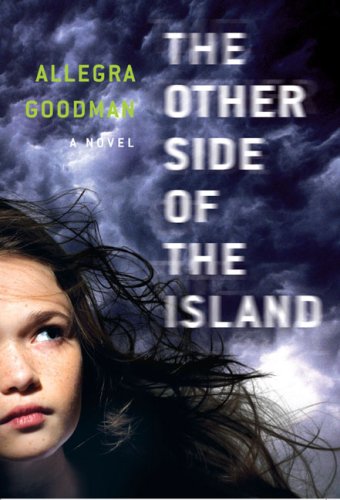 Publisher's Note:
Honor lives in a dystopian world ruled by benevolent Earth Mother, where conformity is prized, the world is peaceful, and the Corporation has controlled the weather since the Flood. But Honor's parents dare to be different, having a second child and pressuring Honor to remember things everyone else is trying to forget. By the time Honor is 13, she cannot understand why her parents refuse to follow the rules, even as she becomes more grimly determined to be the perfect student. For a slightly younger age group than the current crop of dystopian and apocalyptic novels, the book is at its best when it's inside Honor's head, as she struggles to balance her parents' unorthodoxy with her craving to belong. Information about how this new world came to be is teasingly dispensed, and that, too, will keep readers engaged.
The Other Side of the Island
by Allegra Goodman
Overall Review:
This novel has taken a very different viewpoint. This is told from the point of view of the daughter of characters who are involved in the underground rebellion against a 'dystopian' society. It was so interesting to see the thought processes of a young girl who is trying to protect her parents whom she thinks are being reckless. She goes to extremes to help her family 'fit in' so nothing bad will happen. In her little girl mind, she feels she is helping. She goes from beaten down and trying to save her family to totally empowered. And yet, she's not a physical part of the rebellion. But it does bring to mind questions: Is it really bad to make everyone be the same and 'feel safe'? Does that really take away our freedom? Or is it better to be honestly free to be ourselves and do what we choose? Are we really free when we do that? And, what happens to those we love when we choose to give ourselves to a cause? I was honestly surprised at the ending, but found it fitting. A very tame, and yet still chillingly scary novel! I loved it!
Content Analysis:
A wonderful lack of foul language!
There is no sexual content.
There are a few mild instances of violence where some characters attack another group of characters, but it's not gory or full of fierce fighting. They're just looking for someone and used the 'attack' to divert attention. Many of the adult characters are harsh.
Mature Subject Matter:
As far as mature themes, there's always the intensity of the dystopian society itself. There are many instances of parents disappearing and the question of where they actually go.
Alcohol / Drug Use:
***
Reviewed By Emily