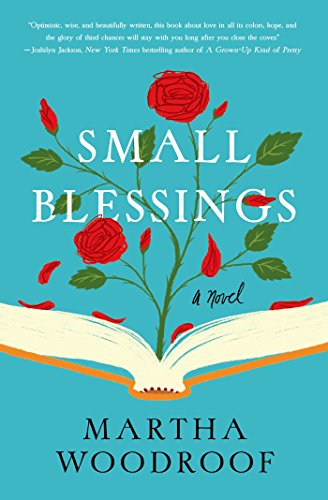 Publisher's Note:
From debut novelist Martha Woodroof comes an inspiring tale of a small-town college professor, a remarkable new woman at the bookshop, and the ten-year old son he never knew he had.


Tom Putnam has resigned himself to a quiet and half-fulfilled life. An English professor in a sleepy college town, he spends his days browsing the Shakespeare shelves at the campus bookstore, managing the oddball faculty in his department and caring, alongside his formidable mother-in-law, for his wife Marjory, a fragile shut-in with unrelenting neuroses, a condition exacerbated by her discovery of Tom's brief and misguided affair with a visiting poetess a decade earlier.

Then, one evening at the bookstore, Tom and Marjory meet Rose Callahan, the shop's charming new hire, and Marjory invites Rose to their home for dinner, out of the blue, her first social interaction since her breakdown. Tom wonders if it's a sign that change is on the horizon, a feeling confirmed upon his return home, where he opens a letter from his former paramour, informing him he'd fathered a son who is heading Tom's way on a train. His mind races at the possibility of having a family after so many years of loneliness. And it becomes clear change is coming whether Tom's ready or not.

A heartwarming story with a charmingly imperfect cast of characters to cheer for, Small Blessings's wonderfully optimistic heart that reminds us that sometimes, when it feels like life has veered irrevocably off track, the track shifts in ways we never can have imagined.
Small Blessings: A Novel
by Martha Woodroof
Overall Review:
Small Blessings was a very interesting read. For me, it is hard to assign it into just one category. It felt like an inspirational read, but it had a notable amount of swearing and sex--something that most of the women I know who read inspirational fiction would balk at. I also had the distinct feeling I was reading a fluffy romance book many times throughout the story. (I've read some romance in the past, and it just doesn't do much for me, so I had a little bit of a bad aftertaste once I was finished with this book.) If you're looking for an inspirational story, this book might fit the bill. But if you're looking for a low-content inspirational book, you might want to look elsewhere.
The first few chapters of this book were excellent. Set in a small town and about a small group of characters who all share a love for a bookstore, I just got a cozy feeling right off the bat. However, then the story started to stray away from the cozy bookstore-feel and more towards a romance between Tom Putnam, a lonely man, and Rose Callahan, a quiet, bookish young woman. If you are reading this book and are like me, this wasn't what you were looking for in a weekend read, and you will probably start wondering if you want to continue on with this story. I forged on, and I wasn't too disappointed. The rest of the story had a lot of information about the dating lives of Tom and Rose, but it also had a slight twist that I didn't see coming. Although a little heavy on the drama for me, but I am sure for some readers this book will be a perfect fit.
Content Analysis:
Profanity/Language: 21 religious exclamations; 16 mild obscenities; 2 anatomical terms; 1 F-Word derivative.
Violence/Gore: A character is mentioned to die in a car crash; a scene is described where a character is drunk and acting violently.
Sex/Nudity: Adults kiss several times; an affair is mentioned several times; nudity with sexual innuendo is mentioned between adults with no detail; sex is implied several times; a woman is mentioned to be a prostitute, arrested for prostitution; adults sexual activity is described once with some brief detail; a man and woman are mentioned to be sexually active before marriage; sex is implied several times.
Mature Subject Matter:
Death, personal crises, child abandonment.
Alcohol / Drug Use:
Adults smoke; heroin use is mentioned; minors drink; adults drink; smoking dope is mentioned.
Reviewed By Lydia