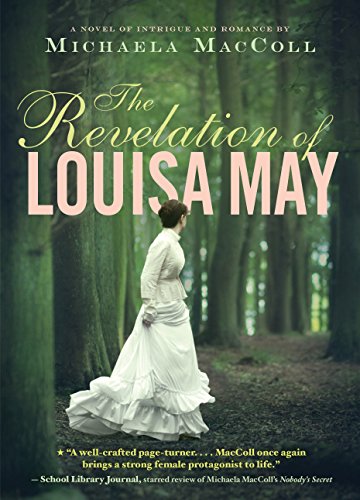 Publisher's Note:
Louisa May Alcott can't believe it—her mother is leaving for the summer to earn money for the family and Louisa is to be in charge of the household. How will she find the time to write her stories, much less have any adventures of her own? But before long, Louisa finds herself juggling her temperamental father, a mysterious murder, a fugitive seeking refuge along the Underground Railroad, and blossoming love. Intertwining fact, fiction, and quotes from Little Women, Michaela MacColl has crafted another spunky heroine whose story will keep readers turning pages until the very end.
This book was sent to Compass Book Ratings for review by Chronicle Books
The Revelation of Louisa May
by Michaela MacColl
Overall Review:
Truly indicitive of author Michaela MacColl's previous Intrigue and Romance novels, The Revelations of Louisa May, MacColl's latest creation, encourages readers to look beyond futuristic dystopian novels and get in touch with the past. With her talent of selecting a female historical figure and lacing them within a lush mystery, MacColl compels readers to interject imagination and amusement into YA historical fiction, a genre which is sometimes overlooked by this demographic.
In this novel not only are readers acquainted with a teenage Louisa May Alcott as the protagonist, but Ralph Waldo Emerson and Henry David Thoreau fill supporting roles, thus creating a bona-fide treat for admirers of American nineteenth century literature. An aspect that readers may admire is MacColl's integral plight to stay true to the facts of the characters' real life situations. Staying true to Louisa May's life experiences allowed the author to delve into some formidable topics such as Louisa's father's somewhat extreme idealistic nature, which at times is downright dangerous, and the family's role in the underground railroad, all adding spice to the murderous plot. Readers may have mixed emotions on the author's portrayal of lead character Louisa. Although it is not overtly disingenuous of what is known about her, Louisa's frankness became at times disrespectful and aggressive. While some teen readers may relate to the tone, other readers may find it annoying rather than charming.
A three-fold pursuit of romance, mystery, and philosophy from YA author Micheala MacColl, Revelations of Louisa May is a charismatic read for the little, and the not so little (age of course, I would never imply heft) woman.
Review of an Advance Reader Copy
Content Analysis:
Profanity/Language: 1 religious exclamation; 2 mild obscenities.
Violence/Gore: Character kicks another character's shin; character tries to engage another character in a physical altercation (humorous); character threatens other characters with defamation; extended scene (about 1 page) character recounts his/her injury, non-graphic in detail another character is killed; extended scene (about 1 page) non-detailed character admits to murder.
Sex/Nudity: Brief scene adult married character kiss; characters briefly kiss; married character is caught holding hands with another character that is not his/her spouse; characters embrace; several brief scenes in which multiple characters flirt/implication of flirtations.
Mature Subject Matter:
Slavery, murder, infidelity within marriage(s), poverty, black-mail.
Alcohol / Drug Use:
Few brief mentions of alcohol.
Reviewed By MaryLou