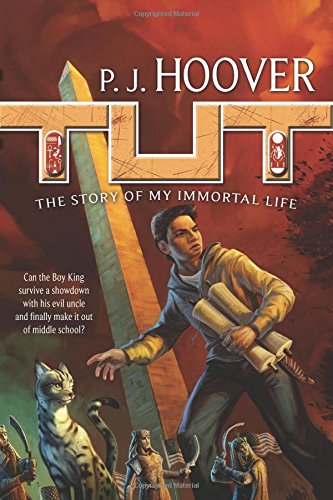 Publisher's Note:
Tut: The Story of My Immortal Life is a funny, fast-paced novel for young readers by P.J. Hoover which chronicles the mischievous adventures of King Tut, now an immortal eighth-grader living in Washington, D.C..
You'd think it would be great being an Egyptian demigod, but if King Tut has to sit through eighth grade one more time, he'll mummify himself.
Granted the gift of immortality by the gods—or is it a curse?—Tut has been stuck in middle school for ages. Even worse, evil General Horemheb, the man who killed Tut's father and whom Tut imprisoned in a tomb for three thousand years, is out and after him. The general is in league with the Cult of Set, a bunch of guys who worship one of the scariest gods of the Egyptian pantheon—Set, the god of Chaos.
The General and the Cult of Set have plans for Tut… and if Tut doesn't find a way to keep out of their clutches, he'll never make it to the afterworld alive.
This book was sent to Compass Book Ratings for review by Tom Doherty Associates Book
Tut: The Story of My Immortal Life
by P J Hoover
Overall Review:
For those younger readers looking for the next book that takes one into the world of ancient mythology, Tut: The Story of My Immortal Life might just be the novel for them. PJ Hoover takes readers into the world of Egyptian gods, goddesses and myths, but with a modern twist. Tut, as in the Boy King, is immortal and forever fourteen years old and he's had thousands of years to perfect a grudge against his uncle. His uncle not only killed his family, but is responsible for getting him stuck as an immortal. This story takes the reader along for the ride as he seeks his revenge.
Tut is an action packed book that introduces the reader to many of the Egyptian gods, but does so with whit and teenage attitude. There is a minimal number of characters which allows the reader to get to know the few rather well. Along with the gods, the readers are also introduced to some ancient Egyptian practices and myths. This novel will certainly appeal to those that have read and liked Riordan's Kane Chronicles, but as this one deals with an ancient king that is immortal, it is a unique story that will seem new and exciting. And as for exciting, the closing sentence is "It was my new quest", leaving the reader wondering if there are more books to this story.
Review was of an Advance Reader Copy
Content Analysis:
Profanity/Language: 3 mild obscenities.
Violence/Gore: Account of food tasters dying from poisoning; character is threatened and stabbed by enemy (3 page account of struggle); account of how character's family was killed; several times throughout the book character talks about killing enemy to get revenge; monument explodes throwing a character in the air; account of child having died; animal claws character to draw blood for a spell; animal attacks another character; extended scene (4 pages) of poisonous animals going after two of the characters; several mentions of how enemy is seeking to kill main character; description of how a knife is used to kill someone that is immortal; extended scene (3 pages) describing Egyptian mummification process; character handles a human heart from a dead person; character assaulted by the thugs of the enemy; extended scene (3 pages) of statues coming to life and attacking character; character attacked and injured with a knife followed by a description of injuries (4 different accounts); an immortal character has his heart healed and description is somewhat like open heart surgery (2 pages); brief description of how an ancient pharaoh had himself chopped up into five pieces and buried in five different places; second hand account of how family members were killed; character man handled by guards; animal attacks enemy's head; enemy takes character to top of a monument with the intent to do harm and holds knife at his throat; character dies from injuries caused by knife.
Sex/Nudity: Mention of statues that are of naked women on horses; two characters hug; two characters kiss.
Mature Subject Matter:
Death of family members, mummification process.
Alcohol / Drug Use:
None
Reviewed By Sally