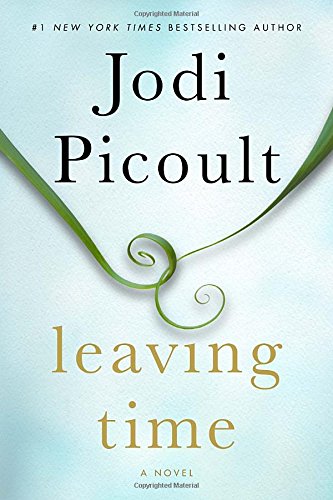 Publisher's Note:
#1 NEW YORK TIMES BESTSELLER

Throughout her blockbuster career, Jodi Picoult has seamlessly blended nuanced characters, riveting plots, and rich prose, brilliantly creating stories that "not only provoke the mind but touch the flawed souls in all of us" (The Boston Globe). Now, in her highly anticipated new novel, she has delivered her most affecting work yet—a book unlike anything she's written before.

For more than a decade, Jenna Metcalf has never stopped thinking about her mother, Alice, who mysteriously disappeared in the wake of a tragic accident. Refusing to believe she was abandoned, Jenna searches for her mother regularly online and pores over the pages of Alice's old journals. A scientist who studied grief among elephants, Alice wrote mostly of her research among the animals she loved, yet Jenna hopes the entries will provide a clue to her mother's whereabouts.

Desperate to find the truth, Jenna enlists two unlikely allies in her quest: Serenity Jones, a psychic who rose to fame finding missing persons, only to later doubt her gifts, and Virgil Stanhope, the jaded private detective who'd originally investigated Alice's case along with the strange, possibly linked death of one of her colleagues. As the three work together to uncover what happened to Alice, they realize that in asking hard questions, they'll have to face even harder answers.

As Jenna's memories dovetail with the events in her mother's journals, the story races to a mesmerizing finish. A deeply moving, gripping, and intelligent page-turner, Leaving Time is Jodi Picoult at the height of her powers.
Leaving Time: A Novel
by Jodi Picoult
Overall Review:
Jodi Picoult is one of those authors that aren't simple. It's not just a matter of "Jodi Picoult? I love her books!" or "Oh, Picoult? Eh, not for me". No, in my experience, most readers, especially avid ones, are sure to read all of Jodi's books, but sometimes they don't know whether to love them or to hate them. So they continue to read each of Picoult's books as they come out, and for the most part, the books are something a reader enjoys, even if some of the subjects are tough. Someone has to write about the hard stuff, right?
Recently, it has seemed like Jodi Picoult has been trying out different styles of writing. It started with Lone Wolf, a book about a man who researches wolves for a living. Then it seemed like Jodi went back to her roots a bit in The Storyteller. Now, in Leaving Time we are introduced to several characters who narrate their own chapters (which is typical in Picoult's books), but one of the characters particularly stands out. Jenna Metcalf is a young girl who has been through a lot in her short lifetime. Her parents never got along, and she has never really known either of them. Instead she lives with her grandmother. She has a good life, but is curious, and rightly so, about the whereabouts of her mother. Her mother who has been missing since Jenna was three.
I enjoyed this book a lot. There wasn't as much legal jargon as is sometimes the case in Jodi Picoult's books and the characters were all real and relatable. To look at the cover of this book, you probably wouldn't think that elephants play a big part of this story. Well, they do, and in the course of the story, I found that I learned quite a bit about the animal, whether I wanted to or not. It's not likely that a person could start this book and not finish it, but if you find yourself tempted to give up on this title for whatever reason, please consider finishing it. There is an important part there, and I don't think you'd want to miss it.
Content Analysis:
Profanity/Language: 5 religious exclamations; 8 mild obscenities; 5 derogatory names; 6 scatological words; 3 anatomical terms; 12 F-Word derivatives.
Violence/Gore: A man is mentioned to be abusive to his wife; a man slaps his wife across the face; a child dies in an accident, blood and gore are briefly mentioned; a character is trampled to death and body is described, blood and gore are mentioned; abuse of animals is mentioned; a character goes missing; a character overdoses on sleeping pills and dies; a character commits suicide
Sex/Nudity: Adults kiss several times; sex is referred to; sexual abuse is implied; date rape is mentioned with no description; a husband is mentioned to have left his wife to date a woman; a man and woman are mentioned to be sleeping together; a woman is mentioned to be having an affair/cheating on her husband several times; sex is implied; adult sexual activity without explicit details.
Mature Subject Matter:
Death, child abandonment, personal crises, sexual and physical abuse.
Alcohol / Drug Use:
Abuse of prescription medicines; adults drink; adults smoke; meth use is mentioned.
Reviewed By Lydia