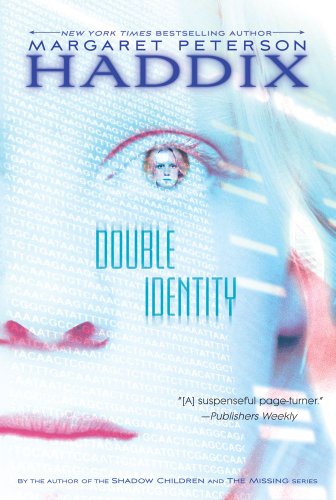 Publisher's Note:
So my only protection is a kindergarten teacher and a ninety-eight-pound female minister....And they don't even believe I'm in danger.

As Bethany approaches her thirteenth birthday, her parents act more oddly than usual. Her mother cries constantly, and her father barely lets Bethany out of his sight. Then one morning he hustles the entire family into the car, drives across several state lines -- and leaves Bethany with an aunt she never knew existed. Bethany has no idea what's going on. She's worried her mom and dad are running from some kind of trouble, but she can't find out because they won't tell her where they are going.

Bethany's only clue is a few words she overheard her father tell her aunt: "She doesn't know anything about Elizabeth." But Aunt Myrlie won't tell Bethany who Elizabeth is, and she won't explain why people in her small town react to Bethany as if they've seen a ghost. The mystery intensifies when Bethany gets a package from her father containing four different birth certificates from four different states, with four different last names -- and thousands of dollars in cash. And when a strange man shows up asking questions, Bethany realizes the's not the only one who's desperate to unravel the secrets of her past.
Double Identity
by Margaret Peterson Haddix
Overall Review:
Better known for her award winning Shadow Children Series, author Margaret Peterson Haddix blends a miniscule dose of science fiction, mixed with a mysterious family crisis to forge a winsome novel that is Double Identity. This novel is a solid read for elementary to middle grade readers. It is also a breezy adventure for young adults looking for a slowed-down, thoughtful version of a high-octane thriller. Although the pace is slow for a book which is advertised as an "exhilarating thriller", the story does not drag its feet to the conclusion, rather it is more of a reflective pursuit to the truth that protagonist Bethany seeks.
Twelve year old Bethany's character has some interesting character development. Her love for her parents, the need to protect them, but still seek the truth they seem to be hiding, all make Bethany less than a one dimensional teen character that is the spoiled, selfish and moody teen we see in some youth literature. However, the lack of personal development for some of the other characters, such as the "villain", and the orderly wrapped up ending that is the epilogue, may leave some readers feeling short-changed. My thought is that the author should have delved deeper into this story. Considering that cloning is a highly plausible scientific reality coupled with the unusual family dynamic, the author had ample room for expansion, and perhaps, even for a series that explored the alluring subject a bit further, as it is an enticing topic.
Young readers who enjoyed this book, but are craving something with more adventure and even more abnormal genetic science fiction elements, may find the Maximum Ride Series by James Patterson worth checking out.
Content Analysis:
Profanity/Language: 1 religious exclamation.
Violence/Gore: Car accident resulting in injury and death(s) is mentioned a few times throughout the book, little to no details given; character accidentally injured, some blood mentioned.
Sex/Nudity: None
Mature Subject Matter:
Death(s) of a family member, cloning, child abandonment.
Alcohol / Drug Use:
None
Reviewed By MaryLou