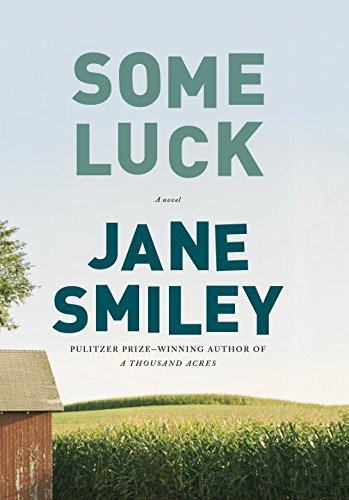 Publisher's Note:
Longlisted for the 2014 National Book Award

From the winner of the Pulitzer Prize: a powerful, engrossing new novel—the life and times of a remarkable family over three transformative decades in America.

On their farm in Denby, Iowa, Rosanna and Walter Langdon abide by time-honored values that they pass on to their five wildly different children: from Frank, the handsome, willful first born, and Joe, whose love of animals and the land sustains him, to Claire, who earns a special place in her father's heart.

Each chapter in Some Luck covers a single year, beginning in 1920, as American soldiers like Walter return home from World War I, and going up through the early 1950s, with the country on the cusp of enormous social and economic change. As the Langdons branch out from Iowa to both coasts of America, the personal and the historical merge seamlessly: one moment electricity is just beginning to power the farm, and the next a son is volunteering to fight the Nazis; later still, a girl you'd seen growing up now has a little girl of her own, and you discover that your laughter and your admiration for all these lives are mixing with tears.

Some Luck delivers on everything we look for in a work of fiction. Taking us through cycles of births and deaths, passions and betrayals, among characters we come to know inside and out, it is a tour de force that stands wholly on its own. But it is also the first part of a dazzling epic trilogy—a literary adventure that will span a century in America: an astonishing feat of storytelling by a beloved writer at the height of her powers.
Some Luck: A Novel
by Jane Smiley
Overall Review:
I haven't read any of Jane Smiley's blockbuster titles like A Thousand Acres or A Private Life, but when I was about twelve my younger sister told me about a book she read, and really enjoyed called The Georges and the Jewels. After first scoffing at the title, I looked at what it was about and started reading. This was my first introduction to the works of Smiley, and from now on, whenever she releases a new book, I am going to read it.
Some Luck is based on a family who lives in Iowa, which right away appealed to me as I, too, live in Iowa. Throughout the book towns that I recognize are mentioned, which was fun, as I felt like I could connect more to the story just by hearing a name I knew. The location of the home of the characters in this book is not the only appealing thing though. This book tells the story of the Langdon family, spanning from the 1920's to the 1950's.
For much of the book, we read about the Langdon's son, Frank, who is coming into his own in a time where much is changing all at once. I was reminded of Little House on the Prairie at many times throughout this book. The Wilder and Langdon families share many of the same adventures and experiences, though seen through the eyes of different genders. I used to only read books about the earlier 1900's, and so this book brought back some nostalgic and melancholy feelings of a childhood when I would cuddle up in my bed and stay up reading until late at night about a time long ago when cold winds seemed harsher, storms seemed worse, and a warm fire was the best thing you could come home to at the end of a long day.
Content Analysis:
Profanity/Language: 1 mild obscenity; 2 scatological words; 1 anatomical term; 2 F-Word derivatives.
Violence/Gore: A childbirth is described with blood mentioned briefly; a character is mentioned to have hanged self; a child is mentioned to have been run over by a horse and buggy; a freak accident occurs and a baby is mentioned to have died; war is mentioned.
Sex/Nudity: Minors are mentioned to kiss several times; sex is referred to; sexual innuendo and nudity is mentioned three times with some brief description; women are referred to as whores; minors touch in a slightly sexual way.
Mature Subject Matter:
Death of a loved one, war.
Alcohol / Drug Use:
Adults drink; minors are mentioned to smoke.
Reviewed By Lydia