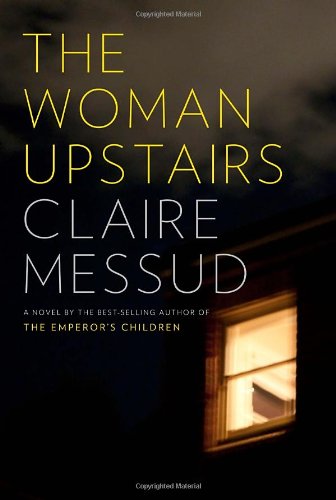 Publisher's Note:
From the New York Times best-selling author of The Emperor's Children, a masterly new novel: the riveting confession of a woman awakened, transformed and betrayed by a desire for a world beyond her own.

Nora Eldridge, an elementary school teacher in Cambridge, Massachusetts, long ago compromised her dream to be a successful artist, mother and lover. She has instead become the "woman upstairs," a reliable friend and neighbor always on the fringe of others' achievements. Then into her life arrives the glamorous and cosmopolitan Shahids—her new student Reza Shahid, a child who enchants as if from a fairy tale, and his parents: Skandar, a dashing Lebanese professor who has come to Boston for a fellowship at Harvard, and Sirena, an effortlessly alluring Italian artist.

When Reza is attacked by schoolyard bullies, Nora is drawn deep into the complex world of the Shahid family; she finds herself falling in love with them, separately and together. Nora's happiness explodes her boundaries, and she discovers in herself an unprecedented ferocity—one that puts her beliefs and her sense of self at stake.

Told with urgency, intimacy and piercing emotion, this brilliant novel of passion and artistic fulfillment explores the intensity, thrill—and the devastating cost—of embracing an authentic life.
The Woman Upstairs
by Claire Messud
Overall Review:
I must admit that I was pleasantly surprised to find this book to be wonderful. I'm not exactly sure what made it into a great book; perhaps a mixture of things, but I can say that I was not expecting to like this book as much as I did. Somehow, this book managed not to slip through the cracks on my reading list and I saw the cover, was intrigued, and took it home to read. Once I picked The Woman Upstairs up, I could hardly put it down.
The book itself might not sound that fantastic. Nora Eldrige is a middle-aged teacher, ordinary in every way (in her own mind she refers to herself as "the woman upstairs"), the person who everyone just assumes is always there, doing her everyday thing. There is nothing about her that is interesting or exciting. She is just a normal lady trying to make a living and not go crazy from the monotonous person she has become. However, sometimes when we feel like we are nobody, we find out that we have the power to turn ourselves into somebody. Or it just happens without our permission or knowledge. This is the case with Nora. One day a situation arises and she takes control of it in such a way that makes her stand out, and suddenly she is more than just a teacher, more than just "the woman upstairs". Soon she must decide whether she would rather stay an anonymous woman, or someone that steps out of her shell for the first time.
Content Analysis:
Profanity/Language: 1 religious exclamation; 2 mild obscenities; 2 derogatory names; 4 scatological words; 2 anatomical terms; 10 F-Word derivatives.
Violence/Gore: A character is injured and requires surgery, which is briefly described; bullying is mentioned; a character is killed by a bomb going off, with no description; property is mentioned to be destroyed in a disaster.
Sex/Nudity: Adults are mentioned to kiss; minors kiss; nudity with sexual innuendo is mentioned with no description; a woman lusts after a man; promiscuous sex is mentioned; a woman is mentioned to pose for nude photos, which are slightly sexual; a man is mentioned to be cheating on his girlfriend.
Mature Subject Matter:
Bullying, personal crises, illness, death of a parent.
Alcohol / Drug Use:
Adults smoke; smoking pot is mentioned; adults drink.
Reviewed By Lydia