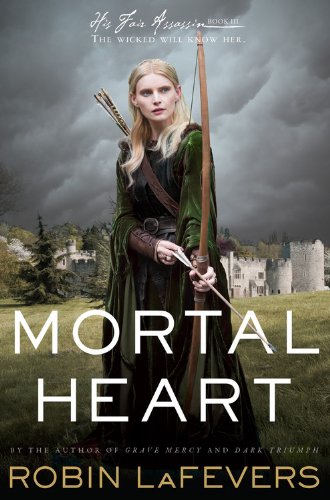 Publisher's Note:
In the powerful conclusion to Robin LaFever's New York Times bestselling His Fair Assassins trilogy, Annith has watched her gifted sisters at the convent come and go, carrying out their dark dealings in the name of St. Mortain, patiently awaiting her own turn to serve Death. But her worst fears are realized when she discovers she is being groomed by the abbess as a Seeress, to be forever sequestered in the rock and stone womb of the convent. Feeling sorely betrayed, Annith decides to strike out on her own.
She has spent her whole life training to be an assassin. Just because the convent has changed its mind, doesn't mean she has.
This book was sent to Compass Book Ratings for review by Houghton Mifflin Harcourt
Mortal Heart
by Robin LaFevers
Overall Review:
Mortal Heart is the final installment in the His Fair Assassins Trilogy and is meant to give Annith her story. However, Annith has to share her story with the wrap-up of the series, as the author brings earlier characters full circle to resolve the political conflicts. There is also some expansion upon the mythological-fantasy element of the Nine Gods that has only been referenced in the earlier books, thus giving this book the strongest fantasy flavor among the three novels.
Perhaps it is because so much is to be covered in this book, but it did feel as if Annith's unlikely romantic interest was underdeveloped and the relationship didn't get the investment that was received to the romance storylines in the first two books; there were a few minor incongruences that were left unaddressed.
That quibble aside, fans will be more than pleased with this gripping, climatic conclusion to the series. Robin Lafevers creates another unique, strong, nuanced female protagonist. Any reader who has felt left behind--or tried to attain perfection in order to secure acceptance and safety--will connect with Annith. The historical setting is sterling and the author's note at the end regarding the historical context is much appreciated and a welcome bonus.
With top-notch writing, this is one of the best current young adult historical fiction/light fantasy series out there. It is also a fabulous series for adult readers who occasionally like to dip down and pick up the finest of the young adult demographic.
Review was of an Advance Reading Copy
Content Analysis:
Profanity/Language: 3 religious exclamations; 10 mild obscenities; 1 derogatory name; 1 scatological word.
Violence/Gore: Various reports of deaths; report of actions (abusive in nature) by an adult against a child to "test" them, with few details; report of wounds received and scars with implication they were result of physical abuse to a child; letter with updates on deaths, attempts, assassinations, etc.; reference to deaths of mothers and circumstances that brought girls to the convent; general recount of some legends and acts of violence of the Gods & Goddesses; child was locked in solitary confinement without food; report of a child being locked away with a dying animal; character flips another on the back; characters briefly recount past acts of violence, non-detailed; characters spar; character encounters body of someone she knew; a few separate instances of killing with arrows, from a distance; implied death of some characters; report of murders from poisoning; child tortured with metal device to induce obedience, a few details; report of suicide, non-detailed; extended scene of fighting/battle with arrows, swords, knife, etc. with characters throats cut and "blood splatters", beheading of a character (non-detailed), resulting in severe injuries and death with some mention of blood.
Sex/Nudity: Child born out of wedlock; character asked if they are going to seduce another; bathing (non-sexual); character asked if they have "lain" with someone (no answer given); a character says they have a lover; characters embrace; characters kiss passionately on a few occasions; passing reference to attempted rape; character contemplates taking a lover and makes tentative overtures; innuendo; feeling of attraction by characters; caressing of cheeks; touching of hair; holding and kissing of hand; confessions by a character to being a former lover; reports of Gods and Goddesses activities in mythological, general sense; seventeen year old character has sex with character of unspecified age, no details/description.
Mature Subject Matter:
Death, child abuse, birth out of wedlock, war/politics.
Alcohol / Drug Use:
Characters drink wine.
Reviewed By Cindy