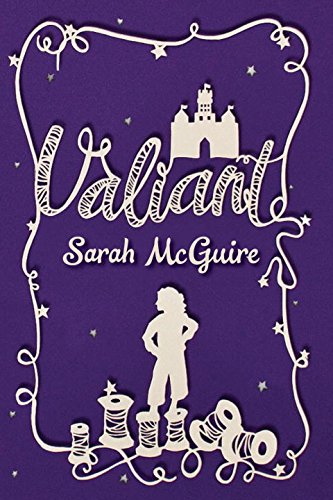 Publisher's Note:
A debut fairy tale reimagining featuring a strong female character and a daring quest just right for fans of Shannon Hale, Jessica Day George, and Gail Carson Levine.

Saville hates sewing. How can she not when her father, the Tailor, loves his bolts of velvet and silk far more than he's ever loved her? Yet, when he is struck ill shortly after they arrive in the city of Reggen, Saville must don boy's clothes in the hopes of gaining a commission from the king to keep them fed.

The kingdom is soon on edge when stories spread of an army of giants led by a man who cannot be killed. But giants are just stories, and no man is immortal.

And then the giants do come to the city gates, two larger-than-life scouts whom Saville cunningly tricks into leaving. The Tailor of Reggen is the hero of the kingdom, the king promises his sister's hand in marriage, and by the time Saville reaches the palace doors, it is widely known that the Tailor single-handedly killed the giants.

When her secret--that she's a girl--is quickly discovered by Lord Galen Verras, the king's cousin, Saville's swept into the twists and turns of court politics. The deathless man is very real, and he will use his giant army to ensure he is given the throne freely or by force.

Now, only a tailor girl with courage and cunning can see beyond the tales to discover the truth and save the kingdom again.

Valiant is a rich reimaging of "The Brave Little Tailor," artfully crafting a story of understanding, identity, and fighting to protect those you love most.
This book was sent to Compass Book Ratings for review by Egmont
Valiant
by Sarah McGuire
Overall Review:
Bravo to debut author Sarah McGuire for giving readers a fresh tale in a crowded market of fairy tale re-tellings. Thankfully, Ms. McGuire skips over the standard fairy tale fare and goes to a lesser known source for her inspiration, The Valiant Little Tailor. If that wasn't notable enough, she also gives readers a female protagonist that breaks away from the trend of hardened, toughened fighter/assassin types to give the reader a resourceful, resilient, intelligent, clever, and kind heroine who survives not by fighting skills, but by her wits and determination. It is impossible not to come to love Saville. Add to the great characters a solid re-working of the plot, some nice twists to the original fairytale, and smart pacing, and one gets a sterling story.
Although this novel is targeting a middle grade audience, with its older protagonist and a romantic interest (who is quite compelling in his own right) this is a story that has some substantial upward audience reach. An unexpectedly delightful read that exceeded expectations, Valiant is highly recommended.
Review was of an Advance Review Copy
Content Analysis:
Profanity/Language: None
Violence/Gore: Report of death of a parent; report(s) of a raiding party with rumors of scattered human bones that appear to have been boiled and destruction of property; report of a father striking a daughter; a staff looks to be decorated with human bones/skull; character held against will and dropped, inducing unconsciousness and a broken limb; giants try to step on characters; verbal threats/commands to harm/kill; firing of canons at characters; brief scene with some description of decapitated heads in a wagon (mention of blood) and heads inside bloody bag that are dumped on floor; human bones viewed through a spyglass w/implication that humans are being used for food; death of a character from natural causes/complications; character shot with an arrow and "blood everywhere"; legend/story about heart being torn from body and hidden; mob throws stones resulting in injuries w/mention of blood; character kicked, held at crossbow point, struck; character's hands are broken from torture (happens off-page); extended scene of fighting action with swords, struggling, kicking, attempts to crush, knives, etc. resulting in deaths and some severe injuries with brief mention of blood; report of amputation of a limb.
Sex/Nudity: Kiss to hand; reference to someone being illegitimate; character imagines kissing another and being held by another; characters embrace; characters kiss.
Mature Subject Matter:
Death of a parent, death, war, betrayal, politics.
Alcohol / Drug Use:
Character is given a sleeping draught.
Reviewed By Cindy