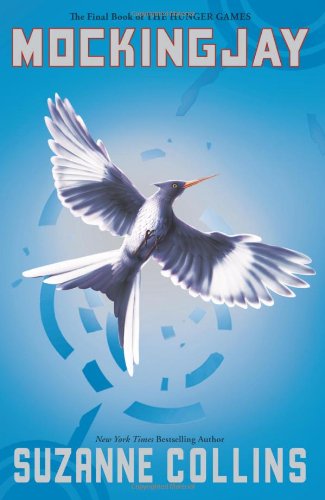 Publisher's Note:
The third book in Suzanne Collins's phenomenal and worldwide bestselling Hunger Games trilogy is now available in paperback.

"My name is Katniss Everdeen. Why am I not dead? I should be dead."

Katniss Everdeen, girl on fire, has survived, even though her home has been destroyed. There are rebels. There are new leaders. A revolution is unfolding.

District 13 has come out of the shadows and is plotting to overthrow the Capitol. Though she's long been a part of the revolution, Katniss hasn't known it. Now it seems that everyone has had a hand in the carefully laid plans but her.

The success of the rebellion hinges on Katniss's willingness to be a pawn, to accept responsibility for countless lives, and to change the course of the future of Panem. To do this, she must put aside her feelings of anger and distrust. She must become the rebels' Mockingjay - no matter what the cost.
Mockingjay
by Suzanne Collins
Overall Review:
The final book of The Hunger Games trilogy, Mockingjay, is a bit different than the first two, mostly because it doesn't include a new Hunger Games. The story continues on shortly after Katniss is rescued from the Quarter Quell arena at the end of Catching Fire. If only this could be a happier story than the first two, alas it was not meant to be. That's not to say that those who have been suffering will just sit by while the Capitol continues to abuse them and make their lives miserable.
It's interesting to look back through the books and see how the characters have developed and transformed. You'll find several of the same characters from the previous two books in this one but nearly everyone has drastically changed after all they've been through. Katniss is no exception. She was so likeable in the first book but as the story progressed she turned into such an atypical protagonist because she so rarely acts like a hero, more like she stumbles into situations when she occasionally acts heroically. There are, of course, exceptions to this which keep you cheering her on. I was a little disappointed with the ending because it felt as if Collins wrapped things up a little too quickly, leaving out some details I would have liked to be included. I'm sure it was just as she wanted though--to leave a bit to the imagination.
Collins remained consistent with several things throughout the whole story that made this such an appealing plot. She managed to create so much suspense it's nearly impossible to put the books down. Collins is also a master at surprising us and she doesn't disappoint in this book. One of my favorite elements throughout the series was the way she paints the capitol, so incredibly outrageous you can't help but imagine a Tim Burton film (i.e. Alice in Wonderland). While Mockingjay wasn't necessarily my favorite of the three, I still found it to be entertaining and worth reading. This is an amazing series that even a reluctant reader will love.
Content Analysis:
Profanity/Language: None
Violence/Gore: Many (47) brief incidents including verbal threats; implied torture; song about death; threatened with gun; character contemplating suicide; violent dreams; characters wanting to harm and kill others; second hand reports of bombings resulting in death and destruction of buildings; reference to many dying from epidemic; second hand reports of people getting hurt and tortured; recalling verbal threats; several second hand report of murders; recalling deaths during Hunger Games; reference to deaths during war; reference to characters having tongues cut out; remembering characters dying in coal mine; character accidentally bites another; hunting; character getting tortured; character shot (didn't die); character chokes another then gets knocked out; bombing that results in destruction but no deaths; bomb kills many; character shot & killed; character dies from poor health.
Four extended incidents including second hand report of fantasy characters killing many; three incidents of many deaths during war.
Sex/Nudity: Many (27) brief incidents including touching face; arms around; hugging; remembering kiss; holding hands; kissing; touching cheek; cuddling; playing with hair; wanting to swim naked (non-sexual); innuendo; character referred to as sex symbol; character looks "sexy"; character flirting while standing in nothing but underwear; reference to characters being "new breeding stock"; character forced into prostitution (only referenced, no detail given).
Mature Subject Matter:
Death (including children), war, reference to prostitution (no detail).
Alcohol / Drug Use:
Reference to character being drunk; character wanting a drink; character is drunk; characters given sedatives often (frequently becoming addicted).
Reviewed By Jenny