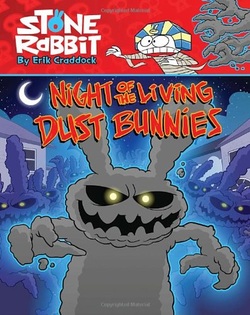 Publisher's Note:
After months and months of neglecting his chores, all of the dirt in Stone Rabbit's house has come to life—and it is turning all of the citizens of Happy Glades into evil living dust bunnies! Will our hero be able to clean up his town? Or will he be swept away by the fiendish filth?

Night of the Living Dust Bunnies is the sixth book in a full-color series of riotous, rip-roaring graphic novels that chronicles the zany of adventures of a quick-tempered and quick-witted young rabbit. Its fast pace and outrageously-high visual content will appeal to thrill-seeking young readers everywhere!
This book was sent to Compass Book Ratings for review by Random House Children's Books
Night of the Living Dust Bunnies (Stone Rabbit #6)
by Erik Craddock
Overall Review:
What happens if you take a very dusty and filthy house, and leave your atomic nightlight on unsupervised? You get huge mutant dust bunnies who eat all the trick-or-treaters in town! Now Stone Rabbit and his friends are running for their lives from some very hungry dust bunnies instead of collecting candy! The action is fast, the pictures are vivid and the dialogue had me cracking up! 'Dude!' This would definitely appeal to young readers who like graphic novels, and especially those who have already been following the Stone Rabbit in his adventures.
Content Analysis:
There is no profanity. However, there is some name calling (Dumb ears, stinky, doofus, idiot), and a character writes insults in dusty furniture (things like "I'm stupid" and "I smell"). The characters use words like "crudmonkey", and there is a little bit of 'bathroom' talk and some pretty intense belching.

All the violence centers around the dust bunnies who 'eat' people (who then become dust bunnies themselves). There are pictures of the dust bunnies eating people which could be disturbing to some young people. The characters have to throw things to overcome the dust bunnies.
Mature Subject Matter:
***
Alcohol / Drug Use:
***
Reviewed By Emily