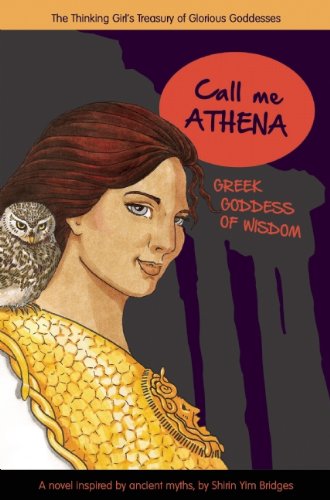 Publisher's Note:
Athena, Greek Goddess of Wisdom, steps fully formed from her father's head into the already established world of the Olympians. A motherless newcomer, she has to find her own place and purpose. Her adventures bring her down to Earth, where she forms close bonds with the Greek Heroes. Her attachment to three in particular—Diomedes, Odysseus, and Achilles—draws her into the Trojan War. How will she protect her friends and end the conflict? What are the ramifications on Olympus? Where does Athena finally find herself at home—and where can you find her now?

Told by Athena in the first person, this lively book gives young readers a unique entry into the world of Greek mythology and provides interesting cultural and historical context in a nonfiction section illustrated with a family tree of the Olympians, maps, and photographs.
This book was sent to Compass Book Ratings for review by Goosebottom Books
Call Me Athena: Greek Goddess of Wisdom
by Shirin Yim Bridges
Overall Review:
Call Me Athena is one of three novels in A Treasury of Glorious Goddesses. Each title in the collection is a stand alone book about a goddess from Greek, Egyptian, and Mayan culture.
Call Me Athena is told in first person and stylistically voiced much like a modern-day middle schooler, complete with a casual vocabulary and tone. This is particularly pronounced at the beginning of the book, but does seem to mellow a bit as the book progresses. This novelization of the myths surrounding Athena was amazingly effective. It is often easy to get the events, gods, and goddesses mixed-up, but hanging them on a story line helps organize and order the mythology. However, beyond a fresh format, there is an additional treasure in the back--a substantial non-fiction section with a map, pictures, a pedigree chart for the Greek Gods (thank goodness!), and other information. The crown jewel is a visual chart that outlines what elements in the story were established myths, facts, or fiction. An excellent choice for lovers of all things mythology, this is one of those rare books that could be read for pure pleasure or easily incorporated into a classroom.
Content Analysis:
Profanity/Language: None
Violence/Gore: Destruction of property; character turned into a spider; general statements/recounts of destruction brought on by Greek Gods; brief reference to how Medusa has slain; battle of Troy, a few details; death of Achilles and others, non-detailed; reference to the myth that a Greek God cut off another god's genitals and threw them in the ocean, thereby giving birth to other gods (non-detailed).
Sex/Nudity: Reference to how Zeus had mistresses and fathered illegitimate children; a rumor (untrue) is spread that a god fathered a child with another goddess; a wife leaves her husband for another; general references to lineage of various Greek Gods (who fathered who with whom).
Mature Subject Matter:
Infidelity by the Greek Gods, marriage infidelity, war, death.
Alcohol / Drug Use:
General references to wine/wine drinking.
Reviewed By Cindy