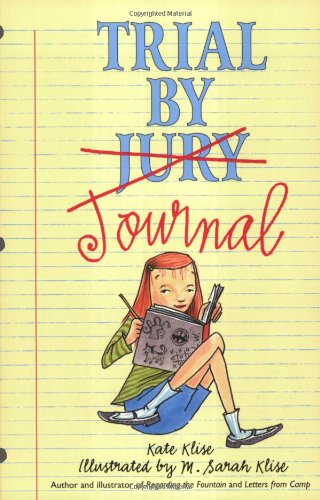 Publisher's Note:
Get ready for a trial unlike any Tyle County has ever seen. Sixth-grader Perry Keet is missing, and Bob White, his co-worker at Tyle Park Zoo, will stand trial for the alleged murder. But Keet's disappearance is only the beginning of this legal thriller.
The real story is told by twelve-year-old Lily Watson, a classmate of Keet's. Watson was selected to White's jury because of a new law requiring a juvenile juror to serve if the case involves a child victim.
Part of Watson's duty will be to listen objectively to the testimony of Tyleville's wealthiest citizen, Rhett Tyle. His testimony is expected to be the key to White's conviction.
White's fate now rests in the hands of Watson and fellow jurors Fawn Papillon, Anna Conda, and other Tyleville locals, as they try to uncover the truth before it's too late.
Trial By Journal
by Kate Klise
Overall Review:
Trial by Journal was a cleverly put-together book. Kate Klise has a unique style that children love where she combines newspaper clippings, journal entries, pictures, secret notes, memos, etc. to make a story. It is definitely a fun way to read a story. Also, Kate Klise tends to use puns in some character names; examples in this story include Perry Keet, Rhett Tyle, and Anna Conda. This gives the people an extra funny twist.
The plot of the book is amusing. A sixth-grade child is put on a jury to decide the fate of a suspected murderer, so it brings a lighter note to what could be a sad story. The sixth-grade girl is a quirky, determined, funny tomboy who gets the surprise of her life in this story. Trial by Journal is packed with hypnotists, disguises, entertaining artwork, and creatures of all sorts--therefore, the nearest nine-year-old will love it. It would make a good gift to a young girl who likes mysteries (since the protagonist is a young girl who solves a mystery). If you enjoy the style as much as you probably will, you can always seek out Kate Klise's other books, because she writes other clever ones as well.
Content Analysis:
Profanity/Language: None
Violence/Gore: It is reported that a character kills and abuses animals; it is reported that an adult abducts a child; it is reported that an adult killed a child; an adult plans to feed a child to an animal; an adult threatens to kill children; an adult says that they enjoyed killing a child; a small animal is hit and killed by a vehicle; an adult is discussed as being a suspect for killing an 11-year-old child; a character is threatened with the death penalty; adults discuss whether or not they should kill a child; someone mentions idea that a child be fed to an animal; adults discuss whether a child was killed by an adult character; adult threatens to kill a child by feeding to an animal.
Note: The book is humorous in nature so much of the violence is related in a humorous fashion, rather than in a serious tone.
Sex/Nudity: An elderly adult mentions they went skinny-dipping several times, non-detailed; two adults are caught kissing by a child.
Mature Subject Matter:
Implied death, cruelty to animals, parents mourning the loss of a child, murder threats.
Alcohol / Drug Use:
None
Reviewed By Amber