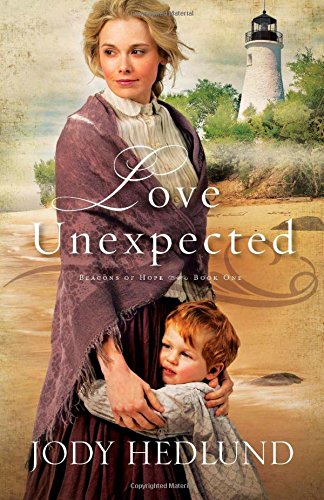 Publisher's Note:
1859
Presque Isle, Michigan

What Is the Secret That Could Shipwreck Both of Their Lives?

All Emma Chambers ever wanted was a home, but when her steamboat sinks just outside Presque Isle, she's left destitute and with no place to stay.

An unlikely solution arises when the lighthouse keeper arrives in town. He's just lost his wife and is having a difficult time caring for his child. So a traveling preacher gets the idea that the keeper and Emma might be the answer to each other's dilemma. After a hasty marriage, she finds herself heading to the lighthouse with this handsome but quiet stranger. Nothing in her aimless life, though, has prepared her for parenting a rambunctious toddler, as well as managing a household.

Emma soon suspects Patrick may be hiding something from her, and then she hears a disturbing rumor about the circumstances surrounding his late wife's death. It seems as if her wish for a home and family of her own could end up leading her once more into turbulent waters.
This book was sent to Compass Book Ratings for review by Bethany House Publishers
Love Unexpected
by Jody Hedlund
Overall Review:
Love Unexpected by Jody Hedlund takes place along the shores of the great lakes in Michigan. This book is the first in the Beacons of Hope series which, of course, includes lighthouses. The first few pages of the story start off pretty intense and fast-paced and then the narrative settles down to what one might refer to as slow, but steady. It is difficult to explain, but the author almost made the book feel like the comfortable placid waters of a lake with an occasional storm to send out some waves.
The afterword of the book discusses in detail those characters who were actually historical and what liberties she took with their stories. Authors who do this automatically get an edge up for doing this. Readers of historical fiction really want to understand more about the real history of the books.
The story about the main characters was covered fairly well, but it does make one curious about what happens to the main character, Emma's brother. Perhaps he will be included in future stories.
The concept of the story itself is very interesting and the lighthouses of Michigan make a great backdrop. Readers who enjoy books about people making positive changes in their lives and becoming better will enjoy this. Those who love historical fiction will also find this an interesting story.
Review was of an Advance Reader Copy.
Content Analysis:
Profanity/Language: 1 derogatory name.
Violence/Gore: Characters shoot at one another and includes blood from an injury; character reported to have abused a woman physically and then raped her, non-detailed; characters fight one another with fists; character is hit with an object.
Sex/Nudity: Character makes many generic references to the intimacies of marriage and sharing a bed with her spouse, these references are obvious sexual references, but not graphic or descriptive; married characters kiss and hug and caress one another's arms and faces; it is reported that a character raped a woman, but no details; a character refers to adultery; a woman is known to be a prostitute and it is mentioned a few times; one scene describes a couple kissing and then sex is implied, but not described.
Mature Subject Matter:
Death of parents and spouse.
Alcohol / Drug Use:
Adult characters reported to have been drinking heavily and too drunk to remember what happened.
Reviewed By Susan