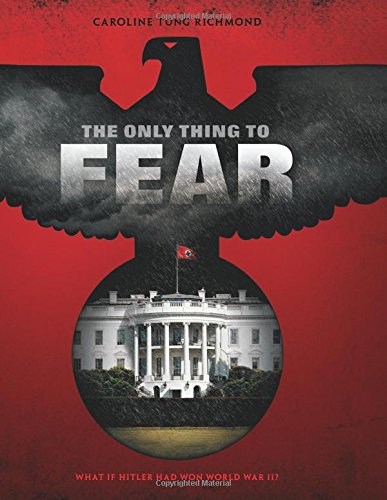 Publisher's Note:
In a stunning reimagining of history, debut author Caroline Tung Richmond weaves an incredible story of secrets and honor in a world where Hitler won World War II.

It's been nearly 80 years since the Allies lost WWII in a crushing defeat against Hitler's genetically engineered super soldiers. America has been carved up by the victors, and 16-year-old Zara lives a life of oppression in the Eastern America Territories. Under the iron rule of the Nazis, the government strives to maintain a master race, controlling everything from jobs to genetics. Despite her mixed heritage and hopeless social standing, Zara dreams of the free America she's only read about in banned books. A revolution is growing, and a rogue rebel group is plotting a deadly coup. Zara might hold the key to taking down the Führer for good, but it also might be the very thing that destroys her. Because what she has to offer the rebels is something she's spent her entire life hiding, under threat of immediate execution by the Nazis.
In this action-packed, heart-stopping novel of a terrifying reality that could have been, Zara must decide just how far she'll go for freedom.
This book was sent to Compass Book Ratings for review by Scholastic
The Only Thing to Fear
by Caroline Tung Richmond
Overall Review:
Alternate history fans will love this book! And with some sci-fi elements this book will appeal to a large audience. For readers who enjoyed the TimeRiders series by Alex Scarrow, The Only Thing to Fear is a must-read. Because this is a story about war, clearly the reader anticipates violence, but author Caroline Tung Richmond finds the perfect balance by not making things too graphic while still tastefully getting the point across. I love the unlikely heroine and Ms. Richmond does a phenomenal job of developing villains one can't help but hate. One would never be able to tell that this is Richmond's debut novel because she is a fantastic writer; I hope to see more of her work in the near future.
Content Analysis:
Profanity/Language: 4 religious profanities; 3 scatological words (in German).
Violence/Gore: Many (33) brief incidents including vandalism; verbal threats; violent dreams; character wanting to harm another; second hand reports of characters being beat; second hand reports of characters being killed; character accidentally electrocutes another; characters are beat; character tortured and killed then skeleton hung out for all to see; non-detailed scenes of murder; one detailed incident of an attack resulting in the destruction of property and death of many.
Sex/Nudity: Several (13) brief incidents including holding hands; hug; kiss; arms around; touching back; character looks at and touches another suggestively; reference to homosexuality; innuendo; unmarried girl gets pregnant.
Mature Subject Matter:
War, torture, neglect, mistreatment, murder.
Alcohol / Drug Use:
Character drinks beer; characters drink alcohol for a celebration.
Reviewed By Jenny