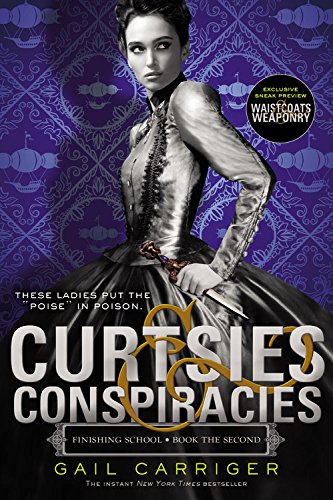 Publisher's Note:
Does one need four fully grown foxgloves for decorating a dinner table for six guests? Or is it six foxgloves to kill four fully grown guests?

Sophronia's first year at Mademoiselle Geraldine's Finishing Academy for Young Ladies of Quality has certainly been rousing! For one thing, finishing school is training her to be a spy (won't Mumsy be surprised?). Furthermore, Sophronia got mixed up in an intrigue over a stolen device and had a cheese pie thrown at her in a most horrid display of poor manners.

Now, as she sneaks around the dirigible school, eavesdropping on the teachers' quarters and making clandestine climbs to the ship's boiler room, she learns that there may be more to a field trip to London than is apparent at first. A conspiracy is afoot--one with dire implications for both supernaturals and humans. Sophronia must rely on her training to discover who is behind the dangerous plot--and survive the London Season with a full dance card.

In this bestselling sequel to New York Times bestselling Etiquette & Espionage, class is back in session with more petticoats and poison, tea trays and treason. Gail's distinctive voice, signature humor, and lush steampunk setting are sure to be the height of fashion this season.
This book was sent to Compass Book Ratings for review by Little, Brown Books for Young Readers
Curtsies & Conspiracies
by Gail Carriger
Overall Review:
For readers who loved Etiquette and Espionage, Ms. Carriger does not disappoint with Curtsies & Conspiracies, the second installment in the Finishing School Series. The characters from the first book are back in high-gear with all the Victorian trappings, steampunk vibe, and tongue-in-cheek humor. The protagonist, Sophronia, really is a born spy and just can't help herself, which makes for enjoyable reading. Although it is not absolutely necessary to read book one, it is recommended as the author appears to be creating a larger story arc for the series. For laugh-out-loud escapism fiction, this young adult book is perfect.
Content Analysis:
Profanity/Language: 1 religious exclamation.
Violence/Gore: Brief scene of attempted kidnapping involving pistol shots but no injury; training exercise that involves chasing, pushing, tripping; general inquiry about who a vampire is feeding on; it is learned that a vampire is drinking a character's blood; scene of attempted kidnapping involving fighting with biting, slashing with a letter opener, and shooting a grappling hook into a shoulder with a mention of blood; general discussion regarding vampires, their practices, and how this sometimes results in murder; a character appears to purposefully poison self (non-fatal); extended scene in which a character falls and two separate characters offer wrists to a vampire with the mention of blood splattering and blood around the mouth of the vampire; the breaking of bones is heard as a werewolf transforms; brief scene in which characters see the body of an individual that has been murdered with a "neck savaged" and "matted with blood"; extended scene of chaos involving an explosion with destruction of property, whacking of head, etc.; kidnapping of characters.
Sex/Nudity: Character sees characters of opposite sex skinny-dipping, but is from a far distance and she is unable to see very clearly; flirting--Victorian style; character caresses another character's wrist; kiss on hand; a few instances of kiss on cheek; characters kiss; characters embrace; reference to a woman's ample "assets"; passing reference to a "connubial" relationship; reference describing the transformation of werewolves (loss of clothing, etc.), character is asked by others what male anatomy looks like, and a (brief) simile is used the creates a vivid image for the reader.
Mature Subject Matter:
Character assassination, ethics, kidnapping, death/murder.
Alcohol / Drug Use:
Teenager smokes a pipe; adults drink; some gin-soaked gentleman upon seeing an unusual sight wonder aloud "Did we visit an opium den?"
Reviewed By Cindy