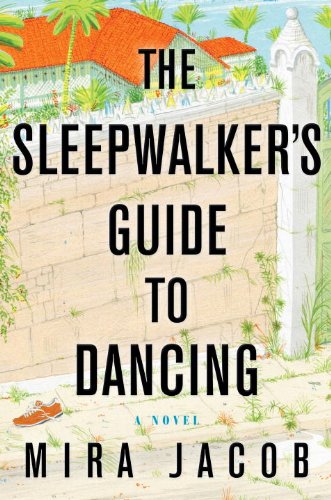 Publisher's Note:
For fans of J. Courtney Sullivan, Meg Wolitzer, Mona Simpson, and Jhumpa Lahiri comes a winning, irreverent debut novel about a family wrestling with its future and its past.

With depth, heart, and agility, debut novelist Mira Jacob takes us on a deftly plotted journey that ranges from 1970s India to suburban 1980s New Mexico to Seattle during the dot.com boom. The Sleepwalker's Guide to Dancing is an epic, irreverent testimony to the bonds of love, the pull of hope, and the power of making peace with life's uncertainties.

Celebrated brain surgeon Thomas Eapen has been sitting on his porch, talking to dead relatives. At least that is the story his wife, Kamala, prone to exaggeration, tells their daughter, Amina, a photographer living in Seattle.

Reluctantly Amina returns home and finds a situation that is far more complicated than her mother let on, with roots in a trip the family, including Amina's rebellious brother Akhil, took to India twenty years earlier. Confronted by Thomas's unwillingness to explain himself, strange looks from the hospital staff, and a series of puzzling items buried in her mother's garden, Amina soon realizes that the only way she can help her father is by coming to terms with her family's painful past. In doing so, she must reckon with the ghosts that haunt all of the Eapens.
This book was sent to Compass Book Ratings for review by Random House
The Sleepwalker's Guide to Dancing
by Mira Jacob
Overall Review:
This book reminded me a lot of Jhumpa Lahiri's The Lowland. It had much of the same feel, and many of the characters seemed to be similar to the ones in Lahiri's book. I enjoyed The Lowland, even though I didn't think I would. This book, not quite so much. It was okay, but I don't think I will be recommending it left and right. It would take a certain person to really love this book.
The characters portrayed in this book were fairly easy to get to know. Amina, the protagonist, is trying to make a living off of a career in photography, and she seems to be doing well at it and getting into the swing of things--until she gets a phone call that leaves her disoriented, concerned, and most of all, wondering what she is doing with her life.
Amina travels from Seattle to her parents' home in Albuquerque, where her mother is convinced her father is going mad. This leaves her in a tough position; one that brings back memories of other times--a time when her family was much different. This book tells several stories at once--one of Amina's present day, and one of her family's past, digging deep into their heritage and things that happened to get them to where they are today.
I will give the author credit; for a first novel, this book is quite well-written, but perhaps a bit too deep for me. This is a thick book and takes dedication, so if you are looking for something light and fluffy to read, I suggest you hold off on this book. There was a bit of a supernatural feel to this book, which was something I really wasn't expecting at all. This added a few points to it, as I enjoy a little magic mixed in with the everyday.
Review of Advance Reader Copy
Content Analysis:
Profanity/Language: 16 religious exclamations; 4 mild obscenities; 2 derogatory names; 15 scatological words; 1 anatomical term; 26 F-Word derivatives.
Note: The use of "bloody" as a curse word was not tallied.
Violence/Gore: A character is mentioned to shoot self; a character overdoses on pills and dies; a character jumps from a bridge and perishes; a family is mentioned to have died in a house fire.
Sex/Nudity: Adults kiss; sex is mentioned several times with no detail; an affair is mentioned; sex is implied with no detail; an unwed pregnancy is mentioned; a couple is mentioned to be sleeping together.
Mature Subject Matter:
Death, cancer, personal crises, suicide.
Alcohol / Drug Use:
Adults smoke; adults drink.
Reviewed By Lydia