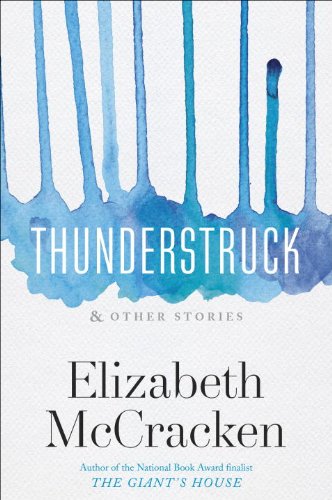 Publisher's Note:
LONGLISTED FOR THE NATIONAL BOOK AWARD

From the author of the beloved novel The Giant's House—finalist for the National Book Award—comes a beautiful new story collection, her first in twenty years. Laced through with the humor, the empathy, and the rare and magical descriptive powers that have led Elizabeth McCracken's fiction to be hailed as "exquisite" (The New York Times Book Review), "funny and heartbreaking" (The Boston Globe), and "a true marvel" (San Francisco Chronicle), these nine vibrant stories navigate the fragile space between love and loneliness. In "Property," selected by Geraldine Brooks for The Best American Short Stories, a young scholar, grieving the sudden death of his wife, decides to refurbish the Maine rental house they were to share together by removing his landlord's possessions. In "Peter Elroy: A Documentary by Ian Casey," the household of a successful filmmaker is visited years later by his famous first subject, whose trust he betrayed. In "The Lost & Found Department of Greater Boston," the manager of a grocery store becomes fixated on the famous case of a missing local woman, and on the fate of the teenage son she left behind. And in the unforgettable title story, a family makes a quixotic decision to flee to Paris for a summer, only to find their lives altered in an unimaginable way by their teenage daughter's risky behavior.

In Elizabeth McCracken's universe, heartache is always interwoven with strange, charmed moments of joy—an unexpected conversation with small children, the gift of a parrot with a bad French accent—that remind us of the wonder and mystery of being alive. Thunderstruck & Other Stories shows this inimitable writer working at the full height of her powers.
This book was sent to Compass Book Ratings for review by The Dial Press
Thunderstruck & Other Stories
by Elizabeth McCracken
Overall Review:
First, I adore the watercolor picture on the cover of this book. I hope the paperback version keeps this illustration; it's so beautiful. Second, I have mixed feelings about this book. I enjoyed all of the stories in this book, but not all of them equally. Several of the stories were hard to follow and "get into", but the rest were really quite good and I wish they would have been longer.
The collection of stories in this book all have a connection--it was their underlying sense of sadness. Each and every one of these stories held a little bit of sorrow, which led me to wonder what the author was experiencing when she penned them. Perhaps she had recently lost someone, or was going through some other kind of crises. If you are personally dealing with a hardship in your life, you may want to pick up this book solely for the fact that you will feel you have found a sort of companionship within it.
I often feel that short story collections are open to the interpretation of the reader. This can be tricky, because I am often left with the feeling that I don't really know how the story ends. The stories in this book vary greatly. In one, which I found morbidly funny, a group of librarians become close with a patron, only to discover one day that their beloved patron has died, and that no one really knows how. Thus, as is typical in any job, gossip among the librarians ensues. Their reactions were very entertaining. In another story, a woman who has been hurt in the past faces her fears head on and finds she grows stronger because of it.
Pick up this slim volume of stories. Perhaps you will be able to relate to one of the situations depicted within. And if not, well, you will still be left holding a book with a beautiful cover.
Review of Advance Reader Copy
Content Analysis:
Profanity/Language: 1 religious exclamation; 2 mild obscenities; 4 scatological words; 1 anatomical term; 6 F-Word derivatives
Violence/Gore: A character is mentioned to have died; boys are mentioned to have been kidnapped; a young child is mentioned to have died; a woman is mentioned to have killed her daughter; a man abuses his girlfriend, no details are given; a character threatens suicide; a character is stabbed and murdered, some blood is briefly mentioned.
Sex/Nudity: Sexual harassment is briefly mentioned; adults kiss; minors are mentioned to have kissed; a brief clinical description of nudity is mentioned; rape is mentioned; sex is implied once.
Mature Subject Matter:
Death, murder, abuse, personal crises.
Alcohol / Drug Use:
Adults drink; adults smoke; a minor is mentioned to drink.
Reviewed By Lydia