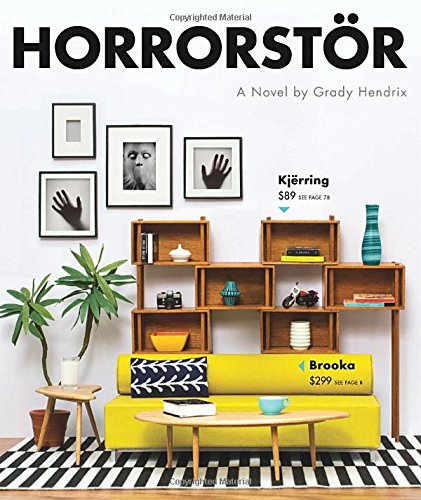 Publisher's Note:
Something strange is happening at the Orsk furniture superstore in Cleveland, Ohio. Every morning, employees arrive to find broken Kjerring bookshelves, shattered Glans water goblets, and smashed Liripip wardrobes. Sales are down, security cameras reveal nothing, and store managers are panicking.

To unravel the mystery, three employees volunteer to work a nine-hour dusk-till-dawn shift. In the dead of the night, they'll patrol the empty showroom floor, investigate strange sights and sounds, and encounter horrors that defy the imagination.

A traditional haunted house story in a thoroughly contemporary setting, Horrorstör comes packaged in the form of a glossy mail order catalog, complete with product illustrations, a home delivery order form, and a map of Orsk's labyrinthine showroom. It's "a treat for fans of The Evil Dead or Zombieland, complete with affordable solutions for better living."—Kirkus Reviews.
This book was sent to Compass Book Ratings for review by Quirk Books
Horrorstor: A Novel
by Grady Hendrix
Overall Review:
When I first got wind of this book, I thought it sounded weird and interesting, but I wasn't sure how well I would be able to read it on a tablet. When the chance to read a paperback copy arose, I took it--not fully knowing what I was getting myself into.
This book was weird, but in some of the best ways. It started out innocently enough, with the reader meeting a group of employees who work at a store called Orsk. These are a bunch of typical people, who go to work to make money, and then go home at the end of the day, happy to be able to relax until tomorrow when they will have to return to their hum-drum roles as salesmen and women. However, within a few chapters it is clear that this store they work at, which seems like a normal furniture store to the untrained eye, is not quite what it appears. Something strange is happening, slowly but surely, and no one is really sure what it is.
If you have been to an IKEA outlet store, you will immediately recognize the cover of this book as something that looks like one of their display rooms. I recently experienced IKEA for the first time, and I think that helped me have a better perspective as to where this book took place. It was fun for me to read and remember the layout of the store I went to, and even though it wasn't exactly the same as IKEA (in fact, the author makes a point of stating this fact), it was so close that I almost felt as if I were an actress in a movie, playing out the story of this book in my mind. Yes, that is how engaging this book is! When the characters feel bored with their jobs, you sense their disgruntled outlooks. When they start to realize their jobs are waaaay more exciting and dangerous than they ever thought, your heart starts to speed up in its beating, anticipating what might lay within the next few pages. This is a fast-paced book that isn't your typical fiction or mystery. It's hard to explain, but this book is just different. Read it and you'll see.
Review of Advance Reader Copy
Content Analysis:
Profanity/Language: 3 religious exclamations; 4 mild obscenities; 1 derogatory name; 1 scatological word; 1 anatomical term; 2 F-Word derivatives.
Violence/Gore: Several scenes of property being damaged are described; a character tries to commit suicide; a woman is savagely attacked by another character, blood is described; people are mentioned to die, they disappear under mysterious circumstances and never turn up; several scary scenes are described.
Sex/Nudity: Adults kiss; sex is referred to twice.
Mature Subject Matter:
Death, paranormal activity, suicide, general violence.
Alcohol / Drug Use:
Adults drink; adults are mentioned to chew tobacco.
Reviewed By Lydia