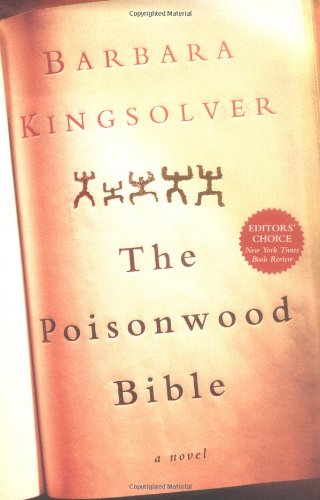 Publisher's Note:
The Poisonwood Bible is a story told by the wife and four daughters of Nathan Price, a fierce, evangelical Baptist who takes his family and mission to the Belgian Congo in 1959. They carry with them everything they believe they will need from home, but soon find that all of it—from garden seeds to Scripture—is calamitously transformed on African soil. What follows is a suspenseful epic of one family's tragic undoing and remarkable reconstruction over the course of three decades in postcolonial Africa.
The novel is set against one of the most dramatic political chronicles of the twentieth century: the Congo's fight for independence from Belgium, the murder of its first elected prime minister, the CIA coup to install his replacement, and the insidious progress of a world economic order that robs the fledgling African nation of its autonomy. Against this backdrop, Orleanna Price reconstructs the story of her evangelist husband's part in the Western assault on Africa, a tale indelibly darkened by her own losses and unanswerable questions about her own culpability. Also narrating the story, by turns, are her four daughters—the self-centered, teenaged Rachel; shrewd adolescent twins Leah and Adah; and Ruth May, a prescient five-year-old. These sharply observant girls, who arrive in the Congo with racial preconceptions forged in 1950s Georgia, will be marked in surprisingly different ways by their father's intractable mission, and by Africa itself. Ultimately each must strike her own separate path to salvation. Their passionately intertwined stories become a compelling exploration of moral risk and personal responsibility.
Dancing between the dark comedy of human failings and the breathtaking possibilities of human hope, The Poisonwood Bible possesses all that has distinguished Barbara Kingsolver's previous work, and extends this beloved writer's vision to an entirely new level. Taking its place alongside the classic works of postcolonial literature, this ambitious novel establishes Kingsolver as one of the most thoughtful and daring of modern writers.
The Poisonwood Bible
by Barbara Kingsolver
Overall Review:
The Poisonwood Bible has been on my to-read list for a long time. I didn't know if I would be able to make it through this book at first glance. I have enjoyed several other books by Barbara Kingsolver, and that gave me hope, but I still had my doubts. I started reading, and was pleasantly surprised at how interested I was in the unfolding story. As I read, I was reminded of one of my favorite books of all time, State of Wonder by Ann Patchett. Both of these books share many similarities, among them, a wild land being explored by foreigners, pasts being reconciled, and love triumphing over all.
Africa is where most of the action takes place in The Poisonwood Bible, and since I have always been interested in missionary work, the family in this book really spoke to me. A mother and father uproot their family of four daughters to go to Africa and preach the gospel to the people of the Congo. They have no idea what will await them, and so they pack up their belongings (among them cake mixes, one for each of their birthdays, and a beloved hand mirror) and get on an airplane to the unknown. This leap of faith is terrifying enough nowadays, with all of the advances modern society has made in medicine and technology, so imagine what it would have been like in the 1950's!
I always enjoy a book where I learn a little bit about history or culture (or both) and in the case of this book, I learned a little of each along with plenty of other little pieces of information I hadn't known before, such as how Africans live and survive. Even though this is an old book, it is as the saying goes, 'An oldie but a goodie.' In many ways it is still very relevant today.
Content Analysis:
Profanity/Language: 3 religious exclamations; 14 mild obscenities; 5 scatological words.
Violence/Gore: An injury is briefly described with some blood mentioned; animals are killed and some blood is involved; a government official is plotted against, poisoning is threatened; government violence is depicted several times; a character dies from a snake bite; death threats are made.
Sex/Nudity: Adults kiss several times; making love is mentioned with no description; sexually transmitted diseases are mentioned once; several clinical, non-sexual depictions of nudity are mentioned.
Mature Subject Matter:
War, death, general violence, divorce.
Alcohol / Drug Use:
None
Reviewed By Lydia