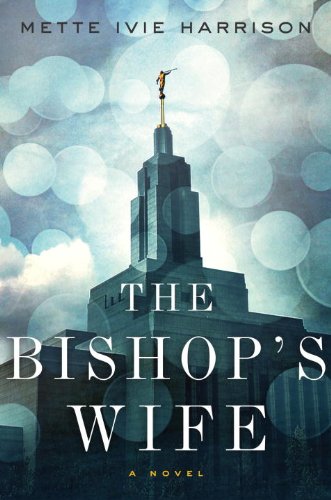 Publisher's Note:
In the predominantly Mormon city of Draper, Utah, some seemingly perfect families have deadly secrets.

Inspired by an actual crime and written by a practicing Mormon, The Bishop's Wife is both a fascinating look at the lives of modern Mormons as well as a grim and cunningly twisted mystery.

Linda Wallheim is the mother of five grown boys and the wife of a Mormon bishop. As bishop, Kurt Wallheim is the ward's designated spiritual father, and that makes Linda the ward's unofficial mother, and her days are filled with comfort visits, community service, and informal counseling.

But Linda is increasingly troubled by the church's patriarchal structure and secrecy, especially as a disturbing situation takes shape in the ward. One cold winter morning, a neighbor, Jared Helm, appears on the Wallheims' doorstep with his 5-year-old daughter, claiming that his wife, Carrie, disappeared in the middle of the night, leaving behind everything she owns. The circumstances surrounding Carrie's disappearance become more suspicious the more Linda learns about them, and she becomes convinced that Jared has murdered his wife and painted himself as an abandoned husband.

Kurt asks Linda not to get involved in the unfolding family saga, but she has become obsessed with Carrie's fate, and with the well-being of her vulnerable young daughter. She cannot let the matter rest until she finds out the truth. Is she wrong to go against her husband, the bishop, when her inner convictions are so strong?
This book was sent to Compass Book Ratings for review by Soho Press, Inc.
The Bishop's Wife
by Mette Ivie Harrison
Overall Review:
Mette Ivie Harrison takes on the task of explaining what it means to be a Mormon in The Bishop's Wife. There were some really great things about this book and there were also some really irritating things. It seems as the though the author is trying to address as many strange or extreme beliefs amongst those of the Mormon faith as she can possibly cram into the pages. This causes the story to feel really sluggish. On the other hand, there are many points of basic Mormon doctrine that are introduced and explained.
The information about the book indicates it is a mystery, but it doesn't feel like there is a great deal of actual mystery. Instead, the clues to the supposed mysteries are really just given either through gossip, news reports, or speculation. Readers do not have to try and piece together the evidence as it is handed to them without any cerebral effort.
The best part of the book was the sensitivity with which the author addresses the feelings of a mother who has lost a child. Especially appreciated is the way in which she wove the main character's feelings into her daily actions. Those who have not experienced this loss will gain a greater appreciation for those who have.
Another admirable aspect of the book involves the author's ability to show others that a person can belong to a group such as The Church of Jesus Christ of Latter-Day Saints and still have questions or lack understanding on certain topics. Not only that, but just belonging to a group does not mean a person lives its teachings perfectly.
One of the principal issues of the book is based on a true story that took place in Utah several years ago and has never been completely solved. Thank you to Mette Ivie Harrison for satisfactorily resolving the major plot points.
Review of an Advance Reader Copy
Content Analysis:
Profanity/Language: 3 religious exclamations, 6 mild obscenities, 9 derogatory names.
Violence/Gore: Character reported to abuse spouse without leaving marks; speculation that character murdered his wife; characters discuss disciplining child with force, but not using objects, not graphic or excessive; character slaps another; person wants to strike another; character is found murdered, non-detailed; person mentions castration; report of a person hearing a sound and murder is implied; character cuts another with a weapon, blood mentioned; person threatens to kill others.
Sex/Nudity: Many sexual references, including sexual orientation, mentioning of word sex and saying someone is good in bed, discussions/references regarding prostitution, online inquiries soliciting sex; married characters kiss, embrace and hold hands; character uses a derogatory term to refer to the act of prostitution; corpses are found nude; character refers to her bouncing breasts; character wants to kick another in the "balls"; teens are referred to as being caught practically naked; reports of sexual abuse of a minor by an adult, non-detailed; report of a minor being forced to have an abortion, no details.
Mature Subject Matter:
Spousal abuse, sexual abuse of minors, death of spouse and child, murder.
Alcohol / Drug Use:
Character imagines she feels like a person with a hangover; person questions if another uses drugs.
Reviewed By Susan