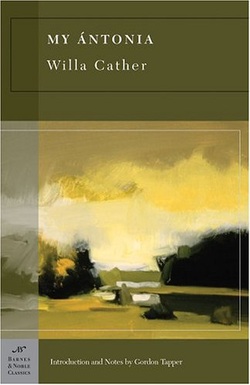 Publisher's Note:
Widely recognized as Willa Cather's greatest novel, My Ántonia is a soulful and rich portrait of a pioneer woman's simple yet heroic life. The spirited daughter of Bohemian immigrants, Ántonia must adapt to a hard existence on the desolate prairies of the Midwest. Enduring childhood poverty, teenage seduction, and family tragedy, she eventually becomes a wife and mother on a Nebraska farm. A fictional record of how women helped forge the communities that formed a nation, My Ántonia is also a hauntingly eloquent celebration of the strength, courage, and spirit of America's early pioneers.
This book was sent to Compass Book Ratings for review by Sterling Publishing
My Antonia
by Willa Cather
Overall Review:
My Ántonia is a portrait of a life well lived that begins in early childhood and moves all the way through adulthood—with all the foibles and mishaps in between. What a beautiful, lovely, rambling narrative of the 'old' West! Life in the early settlements was so difficult. There were many dangers known and unknown, such as snakes and wild animals, devastatingly cold and brutal winters, loneliness, depression, accidents and amputations—many times without the aid of hospitals, doctors or medicines! Throw into that mix a brand new country with a language you don't understand and you have the makings of some pretty desperate circumstances! I loved when the narrator talked of reading Swiss Family Robinson, or Robinson Crusoe, and complaining that they were very dull compared to his real life experiences! Regardless of the harsh circumstances, however, the focus truly remains on the joys of life and the wonder of the experiences of childhood. We see what it means to be a true friend and neighbor. We feel the power of forgiveness. We explore the beauty of the land through each season as the world turns. We enjoy the simple pleasures of life. The simplicity of this novel is refreshing, yet the meaning is complex and all-encompassing. Life passes us by, with all its ups and downs laid out before us, and while the narrative is simple and naïve, we are swept away in its beauty and grandeur.
Content Analysis:
There are a few instances of mild profanity (mostly giving thanks), and a few more moderate exclamations in keeping with the time period (I only noted four).

The violence stays mostly mild just because there is hardly any description on any of the following circumstances: People are attacked and eaten by wolves (it is not gory—sad, but not descriptive); there are two instances of suicide (someone shoots himself, another jumps in a threshing machine); a character chases another through a field with a knife (trying to keep her away from her husband); a character kills his wife, then mortally wounds himself—hoping he'd be found so he could outlive his wife and her family wouldn't inherit his land and money (morbidly funny). It is all well done without shocking or gory details, but adds to the starkness and harshness of life portrayed in the story. A character is beaten when he is mistaken for someone else. There is also some slapping, yelling, and general unkindness at times.

The sexual content is moderate because of the subject matter at times. While we are spared intimate details, the ideas are still there. A character is purported to have many relations with women other than his wife. This same character is caught sneaking into his maids' quarters (the maid isn't there, and he's surprised to find a man there instead, since the maid was afraid and asked for help) with intent to do something… There are many allusions to babies coming out of wedlock, but no details. A character goes to be with her fiancé, supposedly in order to marry him, but she finds that he doesn't actually want to marry her and he runs off, leaving her pregnant and without a husband. There is some 'frivolous' kissing when the characters are teenagers.
Mature Subject Matter:
The Mature Themes are mostly mild and center around the difficulties of life during the early settler days, which include death, prejudice, wicked people trying to cheat others, surviving harsh living conditions (including poverty and weather), and adapting to new cultures.
Alcohol / Drug Use:
***
Reviewed By Emily