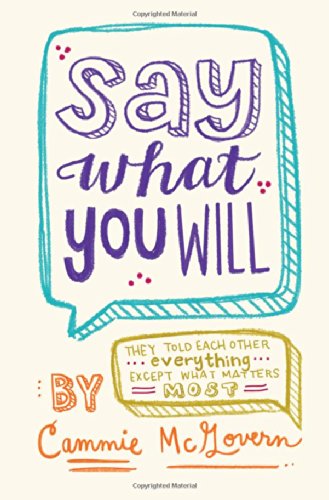 Publisher's Note:
John Green's The Fault in Our Stars meets Rainbow Rowell's Eleanor & Park in this beautifully written, incredibly honest, and emotionally poignant novel. Cammie McGovern's insightful young adult debut is a heartfelt and heartbreaking story about how we can all feel lost until we find someone who loves us because of our faults, not in spite of them.
Born with cerebral palsy, Amy can't walk without a walker, talk without a voice box, or even fully control her facial expressions. Plagued by obsessive-compulsive disorder, Matthew is consumed with repeated thoughts, neurotic rituals, and crippling fear. Both in desperate need of someone to help them reach out to the world, Amy and Matthew are more alike than either ever realized.
When Amy decides to hire student aides to help her in her senior year at Coral Hills High School, these two teens are thrust into each other's lives. As they begin to spend time with each other, what started as a blossoming friendship eventually grows into something neither expected.
Say What You Will
by Cammie McGovern
Overall Review:
Say What You Will by Cammie McGovern is a young adult novel that follows two friends over the course of a couple of years, beginning with their senior year in high school. The story alternates between their perspectives, but rather than use a heavy-handed first person narrative with bold chapter headings announcing the narrator, the perspective smoothly slips back and forth in a third person voice. This gives the read a more philosophical feel and fits the book--which is more a journey than a defined story.
This voicing was captivating in the beginning and climbing inside the characters' skins was fascinating, but at about the two-thirds mark the author began taxing the reader's suspension of disbelief. Some of the character's attitudes and actions started to feel forced and there was a touch of soap opera at one point. Perhaps it was just reader disappointment in character attitudes and actions, but as the novel wound down to a soft ending (one might want to avoid this book if one needs crisp resolutions), this reader was feeling ambivalent and quite ready to shut the covers. A beautiful beginning for a novel that will appeal to some, but was ultimately inexplicably and oddly dissatisfying.
Content Analysis:
Profanity/Language: 11 religious exclamations; 2 mild obscenities; 7 scatological terms; 1 anatomical term.
Violence/Gore: None
Sex/Nudity: Reference to girls starting to dress like "slutty sisters"; male notices that a girl was "growing boobs"; general references to sex; two separate mature discussions between different combinations of characters regarding sex; teen (senior in HS) is asked if she had sex with a 23 year old and she says she did and briefly discussion ensues about sex in general terms; character refers to "period stains"; character remembers playing spin the bottle when younger and kissing, non-detailed; character jokes she is trying to grow "bigger boobs"; character says prom date said he was gay; reference to strapless bra; teenager tells another that she had sex; brief, non-detailed reference to porn and character watching porn in the past; reference to stains on sheets; report of a character having sex; female character asks a male character to lie on top of her and character is partially disrobed and touched; characters kiss.
Mature Subject Matter:
Teenage sex, physical disabilities, mental health disorders, pregnancy out-of-wedlock.
Alcohol / Drug Use:
Adults drink wine; seniors in high school sneak Vodka into a prom through an elaborate scheme and many students get drunk; adults offer champagne to a teenager; teenagers sneak champagne; individuals of various ages smoke joints; medicine used as prescribed by doctor.
Reviewed By Cindy