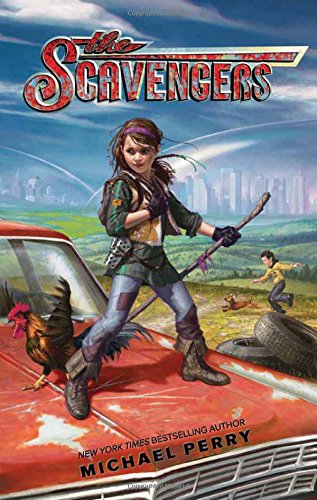 Publisher's Note:
Jeanne DuPrau's The City of Ember meets Louis Sachar's Holes in this imaginative and hilarious middle grade novel from New York Times bestselling author Michael Perry.
When the world started to fall apart, the government gave everyone two choices: move into the Bubble Cities . . . or take their chances outside. Maggie's family chose to live in the world that was left behind. Deciding it's time to grow up and grow tough, Maggie rechristens herself "Ford Falcon"—a name inspired by the beat-up car she finds at a nearby junkyard. The same junkyard where Ford's family goes to scavenge for things they can use and barter with the other people who live OutBubble. Her family has been able to survive this brave new world by working together. But when Ford comes home one day to discover her home ransacked and her family missing, she must find the strength to rescue her loved ones with the help of some friends.
The Scavengers is a wholly original tween novel that combines an action-packed adventure, a heartfelt family story, and a triumphant journey of self-discovery. It achieves the perfect balance of humor and heart in a world where one person's junk is another person's key to survival.
The Scavengers
by Michael Perry
Overall Review:
When I think of Michael Perry, I think "interesting non-fiction author", in fact, if you asked me if I thought he would ever write a book for kids, I would say "Um...NO!" I read Coop, Michael's third book, several years ago at the recommendation of my father. My dad was raving about the book, something he doesn't do often. I felt the urge to see what kind of writing warranted this type of praise. Only a few chapters in, I was pleased with my choice to read this memoir of farm life.
A few weeks ago my dad mentioned that Michael Perry had a new book out for young readers and that it was being compared to books for children that had a dystopian feel. (This type of book was one of my favorites to read as a kid; City of Ember pretty much made my childhood complete.)
The Scavengers was a quick, fun read, and it also transported me back to when I read this type of book as much as I could; I gobbled them up like candy. Maggie, the spunky, tough, and tomboyish protagonist, was easy to cheer on as she tackled everything from foraging for food, to tamping down her temper when her little brother got on her nerves. Mr. Perry painted a future world that was easy to imagine and was even a little scary, as it was quite close to our reality today.
I couldn't put this book down, even though I am probably a bit old to enjoy it as much as I did. This book has everything a kid could ask for--a girl who lives off the land with her family and pet dog, some scary creatures that are always trying to attack humans, and a government that is pretty darn corrupt. So go out and find this book (for yourself or your child). You might be surprised at how well an author that usually only write non-fiction can also spin a fictional tale.
Content Analysis:
Profanity/Language: 1 derogatory name
Note: one instance of a character "cursing" with a made-up word
Violence/Gore: Dead animals are mentioned and briefly described; a child is injured in an home invasion and comes very close to death; a character is captured and held hostage; a child is chased and attacked by a bear, some blood is mentioned; a house is destroyed by authority figures; a child cuts her hand and some blood is mentioned; several instances of rabid humans chasing healthy humans and trying to attack and injure them
Sex/Nudity: None

Mature Subject Matter:
Government violence, violence.
Alcohol / Drug Use:
Characters are mentioned to brew up a form of beer and drink it.
Reviewed By Lydia