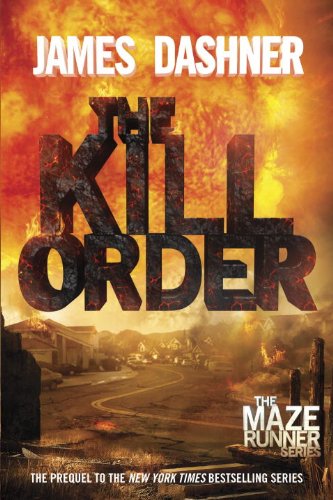 Publisher's Note:
Read the fourth book in the #1 New York Times bestselling Maze Runner series, perfect for fans of The Hunger Games and Divergent. The first book, The Maze Runner, is now a major motion picture featuring the star of MTV's Teen Wolf, Dylan O'Brien; Kaya Scodelario; Aml Ameen; Will Poulter; and Thomas Brodie-Sangster and the second book, The Scorch Trials, will soon be a movie that hits theaters September 18, 2015! Also look for James Dashner's newest novels, The Eye of Minds and The Rule of Thoughts, the first two books in the Mortality Doctrine series.

They thought the end came in a flash.

Before WICKED was formed, before the Glade was built, before Thomas entered the Maze, sun flares hit the earth, killing most of the population.

The worst is yet to come.

Mark and Trina were there when it happened. They survived. But now a virus is spreading. A virus that fills humans with murderous rage.

There is no cure. No escape.

They're convinced that there's a way to save those who are left—if they can stay alive. Because in this new, devastated world, every life has a price. And to some you're worth more dead than alive.

The end is only the beginning.
The Kill Order
by James Dashner
Overall Review:
This novel is an exciting read from start to finish. It is full of all sorts of disasters that everyone hopes they will never have to be a part of, and it is quite the ride to imagine all of those disasters happening in such a short space of time. The Kill Order examines a world where one is surrounded by insane people. Not just frightened people or mean and angry people, but insane people who are frightened, mean, and angry. This is definitely a scary concept, and is therefore quite intriguing to read about.
The characters are decently developed, but the point of the book is not really about the characters. The focus is more on the plot, which makes sense because this is a prequel to The Maze Runner, and thus is a complex explanation of that book's background. I read this book without reading The Maze Runner first, and I might suggest not following my example. The book was still a good read, but it is usually more fun to make connections in a prequel to a book you have already read. This book is also a good one to raise questions to oneself of "How would I act in such a twisted world? And would I even want to survive?"
Content Analysis:
Profanity/Language: 2 religious exclamations; 20 mild obscenities.
Violence/Gore: A character hits another character in a joking manner; a character mentions the deaths of a large number of people; a five page scene where a group of people attack another group of people, killing many of them (some gruesome description, but not overly graphic); a teenage character fires at adult characters, killing two of them; a character is rammed against solid objects, but is not seriously injured; a character hits and injures another character with a heavy tool; a character punches another character; a character is knocked out by an accidental blow to the head; a one page scene where people are graphically described while dying in a natural disaster; the smell of dead people is described a few times throughout the book; stacks of bodies are briefly described or mentioned a few times throughout the book; different characters threaten suicide a few times throughout the book; disturbing symptoms of disease are seen many times throughout the book; a teenage character commits suicide, description not graphic; a character beats up a few other characters, not graphic; a teenage character implies that killed another teenage character; it is implied that an adult kills a teenager; a character remembers many people dying in a natural disaster; characters see many injured people, who are described briefly but graphically; two characters are attacked, treated brutally and abducted in a not graphic two page scene; a character tells how a group of people tried to kill another group of people; a character dies of a disease in a gruesome way; a five page scene of mobs of people attacking each other while a forest fire is taking place (people are burned to death, beaten, and murdered) with only a small amount of graphic description; many people are injured or die in a five page not graphic scene; in a not graphic five page scene, two adults fight a teenager; characters destroy a vehicle; a character kills another character, not graphic; a character sees gruesome remains of violence, graphically but briefly described; an adult shoots and kills a 13-year-old character, graphic description; characters threaten to kill other characters several times throughout the book; a few characters fistfight in three page scene; a person commits suicide, not graphic; in several scenes, many people are killed by being "vaporized," not graphic; two people beat a third person, not graphic; implied gruesome and violent murder by a small group of people; two characters fight with slapping, scratching, kicking; in a one page scene, many people are seen doing bizarre violent things, only briefly mentioned; a character is dragged by the feet down some concrete stairs; a characters many injuries are graphically described; two characters are stabbed, not graphic, and one dies; many people in a group have brutal injuries, including children; throughout the book, different mobs of people attack a characters with punching and kicking a few times in the book, with some consequential deaths, not graphic; a character talks about wanting to eat a child; a teenager attacks then kills an adult, not graphic; a teenager and adult fight until adult dies.
Sex/Nudity: A character untruthfully implies in conversation that they had sex with another character; a character describes another character as "hot"; an adult male makes a threatening sexual implication towards a teenage girl; character couples kiss a few times; two characters hold hands; two characters cuddle.
Mature Subject Matter:
Family abandoning child, death, suicide, disease, robbery/thieving, murder.
Alcohol / Drug Use:
None
Reviewed By Amber