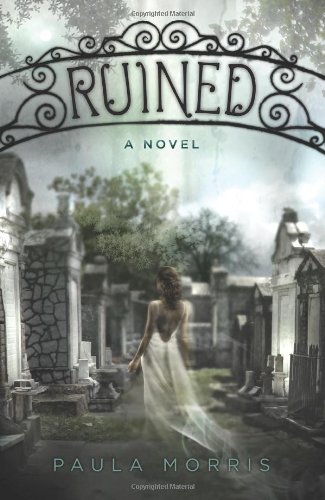 Publisher's Note:
A gripping YA supernatural novel set in New Orleans: TWILIGHT with a ghostly twist.

Rebecca couldn't feel more out of place in New Orleans, where she comes to spend the year while her dad is traveling. She's staying in a creepy old house with her Aunt Claudia, who reads Tarot cards for a living. And at the snooty prep school, a pack of filthy-rich girls treat Rebecca like she's invisible. Only gorgeous, unavailable Anton Grey seems to give Rebecca the time of day, but she wonders if he's got a hidden agenda. Then one night, in Lafayette Cemetery, Rebecca makes a friend. Sweet, mysterious Lisette is eager to talk to Rebecca, and to show her the nooks and crannies of the city.
Ruined
by Paula Morris
Overall Review:
Ruined by Paula Morris held a certain mystical appeal. With ghosts, graveyards, and curses, the storyline is bound to be a little interesting. Plus, there was another dimension added to the book—a dimension of New Orleans culture. It made me wonder what it is actually like in New Orleans. Is the history of the city really so saturated into the present attitudes and values of the city? And do the New Orleans people really value family background so much, even in the midst of a country which is ruled by the values of wealth and intellect? This book definitely encouraged some thoughts about differences in culture, which I found intriguing. There were also some terrible but unsurprising themes in the culture, like racism. The author did not sugarcoat the negatives in the culture.
The main character, Rebecca, was not convincing enough as a mature teenager because her choices sometimes seemed a bit unrealistic. She definitely acted like a teenager going through some angst, but sometimes the angst seemed a bit out of place and overemphasized when there were much more important things going on. I know that most teenagers would definitely be more shocked than Rebecca was if they were to come across supernatural happenings.
Overall, I don't regret spending the time to read this book. It might appeal to a crowd who likes a little bit of creepy in the supernatural genre. It was definitely a unique story compared to what I have read in the past, so it was creative enough for a quick teenage read.
Content Analysis:
Profanity/Language: 7 religious exclamations; 1 anatomical term.
Violence/Gore: A disease is described that takes 8,000 lives, and the smell and sight of the corpses are described; a character imagines corpses lying out in the rain; a character imagines corpses coming to life; an adult historical figure is mentioned as having killed himself; a teenage character walks through a creepy cemetery at night a few times while she is alone; a 9 page scene of characters seeing different gruesome injuries that caused different people to die; a graphic depiction of death and corpses that had been diseased; a character sees a man with a large wound; graphic 2 page description of a woman murdering a young teenager; a teenage girl sees a ghost, is afraid, and causes everyone to scream and run; a deadly curse is discussed; a teenage girl is kidnapped by a bunch of adults; a character's life is threatened; a character brutally dies in an accident; a character attacks other adults with fists; a teenage boy threatens a teenage girl; two characters have a fist fight; property is destroyed by arson.
Sex/Nudity: Different teenage girls flirt with teenage boys a few times; teenage characters walk by some prostitutes; brothels are mentioned in conversation by a teenager; prostitution is mentioned in conversation by a teenager; it is implied by a teenage girl that her father was unfaithful to his wife; characters kiss; a teenage girl dresses down into underwear in order to change clothing (nonsexual), and her type of underwear is mentioned; characters hold hands.
Mature Subject Matter:
Racial social conflicts, socioeconomic social conflicts, death, divorce, separation, illness, marriage infidelity, underage drinking, underage smoking, paranormal.
Alcohol / Drug Use:
Teenagers drink a few times; teenagers smoke; teenagers are allowed to drink at a party, and adults are present.
Reviewed By Amber