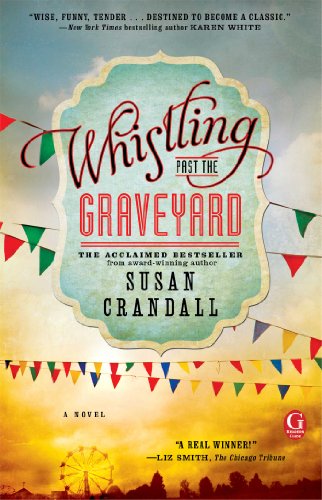 Publisher's Note:
Whistling past the graveyard. That's what Daddy called it when you did something to keep your mind off your most worstest fear. . . .

In the summer of 1963, nine-year-old Starla Claudelle runs away from her strict grandmother's Mississippi home. Starla's destination is Nashville, where her mother went to become a famous singer, abandoning Starla when she was three. Walking a lonely country road, Starla accepts a ride from Eula, a black woman traveling alone with a white baby. Now, on the road trip that will change her life forever, Starla sees for the first time life as it really is—as she reaches for a dream of how it could one day be.
Whistling Past the Graveyard
by Susan Crandall
Overall Review:
Whistling Past the Graveyard examines the racial tension and civil rights movement through the young eyes of nine-year old Starla. Because the story is told in first person from Starla's perspective there is a fresh feel to the injustices encountered, the danger of being black in the South at this volatile time, and the discrimatory but established ways. The crackling danger of the time period is palpable. In contrast, is the impulsive Starla who is often hilarious in her voicing. Clearly, anyone who crosses paths with Starla is in for more than they bargained; trying to watch after Starla is a bit like trying to hold a tiger by its tale. The gently characterized Eula is a nice counterpoint to Starla. This is ultimately a positive story and readers who enjoyed The Help will find this novel to be a kindred spirit to that one.
Content Analysis:
Profanity/Lanuguage: 8 religious exclamations; 9 mild obscenities; 2 religious profanities; 1 derogatory name; 3 scatological words; 2 anatomical terms; 1 offensive hand gesture.
Violence/Gore: Report from long past that a man was dragged behind a car and lost an arm, non-detailed; nine-year old is slapped and shook by grandmother upon a few different occasions; child deliberately knocks younger child over and another child punches, breaking nose; child and woman are dragged and manhandled by a man; husband attempts to hit wife; husband physical abuses wife by shaking; evidence of physical abuse on wife is seen upon other occasions such as bruises, blood on cheek, etc.; child is slapped and drowning is attempted; strangling is attempted on a child; character is killed with blunt object, non-detailed; character's vehicle is maliciously run-off road; report that a husband/father would tie wife/child to chairs and then throw water on them if they started to fall asleep; implied violent death of an infant; report of father beating teenage daughter; property set on fire; report of a boy being stripped, beaten until blood and permanently maimed, few details; news report about man being shot; drunken characters beat a teenager and plan to force a woman, non-detailed; child slapped by mother on two separate occasions; report of a woman being chased and harassed by a group of men, but she escapes with struggle, brief and non-detailed.
Sex/Nudity: Sexual reference to "diddle"; pregnancies and births out of wedlock; young character hypothesizes that she was conceived out of wedlock; a girl says her mother wasn't married; inference that men intend to rape a woman, but nothing happens.
Mature Subject Matter:
Racism and prejudice, childbirth out of wedlock, domestic abuse (physical and emotional), death.
Alcohol / Drug Use:
Characters' brothers (implied minor-aged) are spied smoking cigarettes; adults smoke and drink; adults become quite drunk, a few separate instances.
Reviewed By Cindy