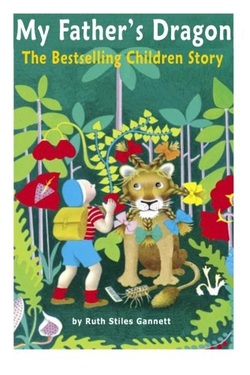 Publisher's Note:
My Father's Dragon is a children's novel by Ruth Stiles Gannett about a young boy, Elmer Elevator, who runs away to Wild Island to rescue a baby dragon. Both a Newbery Honor Book and an ALA Notable Book, it is the first book of a trilogy whose other titles are Elmer and the Dragon and The Dragons of Blueland. It was made into an anime film titled, Elmer's Adventures: My Father's Dragon. The narrative mode is unusual, in that the narrator refers to the protagonist only as "my father", giving the impression that this is a true story that happened long ago. The illustrations within the book are black and white done with a grease crayon on a grained paper, done by Ruth Chrisman Gannett. The story was cited as a runner-up for the Newbery Medal in 1949 and was an ALA Notable Book. It was also nominated for the Ambassador Book Award in 1948. In the story, we meet some tigers, a rhinoceros, a lion, and a gorilla all leading to the baby dragon. There is also a river, an island, and a bridge.
This book was sent to Compass Book Ratings for review by Yearling (A Random House Children's Imprint)
My Father's Dragon
by Ruth Stiles Gannett
Overall Review:
What a sweet, clever, and absolutely charming little tale! I smiled through the whole adventure of little Elmer Elevator trying to save the poor baby dragon from the mean animals of Wild Island! It was such a different telling, as the narrator referred to Elmer as 'my father', so it was as if it were being told in the eyes of a child. There were pictures throughout the story as well, and they were such a treat! I laughed out loud with every encounter Elmer had with the animals of the jungle! He was most definitely prepared to meet his foes as he searched for the baby dragon!

Who knew that chewing gum, magnifying glasses, lollipops, rubber bands, hair ribbons, toothbrushes and toothpaste, and potato sacks would be indispensible in the jungle? Every animal he found was in trouble, and as he offered to help them, they immediately turned their anger away and were so excited at the treasures he offered! For example, there was the poor lion who had gotten his mane all tangled and snagged in the blackberry bushes. He was worried because his mother was coming to visit him, and if she saw him in that state, she would cut off his allowance! Luckily, Elmer had a brush and some hair ribbons in his backpack, so he showed the lion how to carefully brush all the tangles out and braid his hair, then tied it up with colorful ribbons! The lion was so excited! Now surely his mother wouldn't cut off his allowance!! It was so hilarious! Every encounter was just as funny!

I can see why this is a treasured story even now; the writing is so easy to understand and on the perfect level for a young reader—full of excitement and adventure and adversity, but not enough to overwhelm. I will most certainly be passing this one on to my children to read on their own—and will probably enjoy reading it aloud as well!
Content Analysis:
There is no profanity or sexual content whatsoever in this little book.
The violence is very mild, and consists of a mother spanking her boy for disobeying her, and talk of animals bullying a dragon.

Mature Subject Matter:
The themes are also mild: Dealing with bullies and unkind people/creatures and running away from home. My Father's Dragon is perfect for young readers and as a read aloud for all ages!
Alcohol / Drug Use:
***
Reviewed By Emily