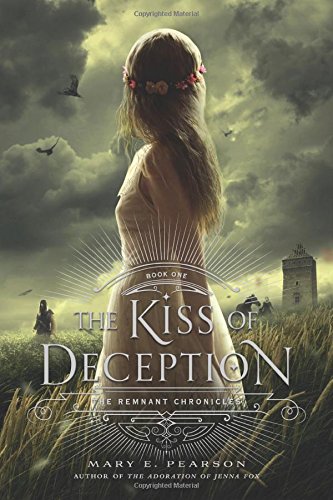 Publisher's Note:
In a society steeped in tradition, Princess Lia's life follows a preordained course. As First Daughter, she is expected to have the revered gift of sight—but she doesn't—and she knows her parents are perpetrating a sham when they arrange her marriage to secure an alliance with a neighboring kingdom—to a prince she has never met.
On the morning of her wedding, Lia flees to a distant village. She settles into a new life, hopeful when two mysterious and handsome strangers arrive—and unaware that one is the jilted prince and the other an assassin sent to kill her. Deception abounds, and Lia finds herself on the brink of unlocking perilous secrets—even as she finds herself falling in love.
The Kiss of Deception is the first book in Mary E. Pearson's Remnant Chronicles.
The Kiss of Deception
by Mary E. Pearson
Overall Review:
If one were to set the The Kiss of Deception and The Adoration of Jenna Fox side-by-side, then it will be noted that they are both penned by the same author. The two books could not be more different. The Adoration of Jenna Fox is one of those young adult works that has huge cross-generational appeal and is highly recommended to adult readers that usually avoid young adult fiction. The Kiss of Deception is a young adult fantasy that will probably only find appeal in its targeted young adult audience. This in mainly due to a seventeen year-old protagonist, Lia, who is very much a teenager in her views of parents, responsibilities, and traditions; many teenaged readers will find a sympathetic voice. Adult readers will find it harder to connect with a prima donna princess constantly claiming to not want to be a princess, yet marching through all situations with a princess-like entitlement attitude. (A willingness to wait tables in a tavern and do some work is some outward show and doesn't count on the true personality meter; this character assumes she should do what she wants and how she wants in almost every situation.) Whether this is a flaw in characterization, intentional irony by the author, or a set-up for character growth potential remains to be seen.
However, by the end of this book it is clear that some of that strong-headedness is going to be important to Lia's survival. This novel is the first in a series and is set in a medieval fantasy setting with some prophecies and other light fantasy elements. Regardless of these trappings, it is primarily a love story with multiple male interests (both crush-worthy); political intrigue comes in a strong second. The book gained momentum and built interest as it progressed, leaving the reader in one of the more dramatic cliffhanger conclusions of recent memory. This is a series that has some real potential and if the next book is as strong as the latter half of this one, then Ms. Pearson may be on to something.
Content Analysis:
Profanity/Language: 1 religious exclamation; 14 mild obscenities; 4 derogatory names; 2 anatomical terms.
Violence/Gore: Reports of deaths of a relative and baby; character is kidnapped with a struggle, knife injury inflicted; characters struggle and struck with an object; character cuts feet walking bare-footed, bleeding mentioned; report of death from fall, non-detailed; report of killing eight men, no details; character attacks others with hands, scratching, etc. resulting in injuries and broken fingers; report that a twelve year old had to witness an execution, no details; characters wrestle/struggle in a competition; character is assigned to assassinate another character; general report that an assassin has killed many others in the past, non-detailed; verbal threats; character is attacked with a knife (minor injuries) and there is a death by crossbow, non-detailed; character threatened with knife; character bites lip of another in defensive move; general report of deaths in a brief battle and stitching of a wound; battle viewed from a distance with many casualties witnessed (non-detailed) and dead are buried with brief description; animals is put down; character is struck.
Sex/Nudity: Character nude for bathing and marking ritual, non-sexual; sexual references such as--husband on wedding night, taking a mistress (hypothetical), kissing boys during a game when character was younger, perky breasts, breeding, "I'm not your whore", characters joke about "Putting tongue down her throat"; nudity of characters when bathing, non-sexual; a character discovers she is pregnant out of wedlock, non-detailed; character asked if he put a "baby in her belly" (question was not answered); characters kiss upon separate occasions; characters kiss passionately and one later recalls "laying in his arms", nothing specified beyond that; character forces kiss and begins to grope (non-detailed) but is stopped.
Mature Subject Matter:
Death, war, pregnancy out of wedlock, assassination, politics.
Alcohol / Drug Use:
Drinking of wine/ale by young adults and adults in medieval settings such as taverns.
Reviewed By Cindy