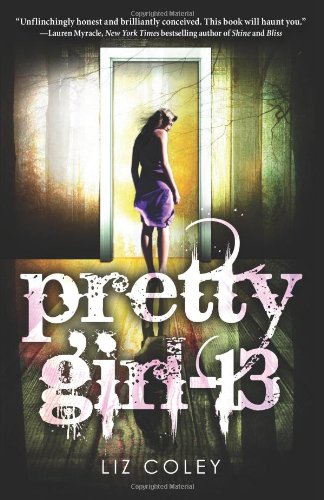 Publisher's Note:
Reminiscent of the Elizabeth Smart case, Pretty Girl-13 is a disturbing and powerful psychological thriller about a girl who must piece together the mystery of her kidnapping and abuse. Perfect for fans of books like Jay Asher's Thirteen Reasons Why, Elizabeth Scott's Living Dead Girl, and Caroline B. Cooney's The Face on the Milk Carton series, Pretty Girl-13 is a haunting yet ultimately uplifting story about the healing power of courage, hope, and love.
Angie Chapman was thirteen years old when she ventured into the woods on a Girl Scout camping trip. Now she's returned home . . . only to find that it's three years later and she's sixteen—or at least that's what everyone tells her. What happened to the last three years of her life? With a tremendous amount of courage, Angie embarks on a journey to discover the fragments of her lost time. She eventually discovers a terrifying secret and must decide: what do you do when you remember things you wish you could forget?
Pretty Girl-13
by Liz Coley
Overall Review:
Pretty Girl-13 is a book that will chill you to the bone, and make you think twice before you venture too far into the woods alone. I had seen a few reviews about this book, but brushed them off. The cover looked like your typical teen book--one that is trying just a little too hard to entice you to read it. However, when a copy showed up at the library I decided to give it a try. The story sounded interesting, and I didn't have anything else that I needed to get read right away. I took a little risk and reaped great rewards.
I ripped through the first several chapters of this book like a whirlwind. This book is a quick and easy read, mostly because it was just such a thriller. Immediately I was pulled in to the story and had to know what would happen next--although with this book, what happened next was hard to predict. Part of the reason why I couldn't decide what might occur was because the main character, Angie, isn't sure what is happening in her life either. She is told many facts about her life, but for some reason her memory has been almost completely wiped out. She knows who she is, or who she is supposed to be, but she doesn't remember how she got to be sixteen; the last thing she remembers is a camping trip with her Girl Scout Troop when she was thirteen. (These things are not spoilers; these little tidbits just barely scrape the surface of the complexities of this young girl's life.)
Hopefully this review has sparked your curiosity and you will be as impressed as I was. I think Liz Coley needs to get busy writing more books for young adults--she has found her niche!
Content Analysis:
Profanity/Language: 2 religious exclamations; 3 mild obscenities; 2 derogatory names; 1 anatomical term; 2 F-Word derivatives
Violence/Gore: A teenage character is abducted; violent scenes are recalled several times in detail; restraints cut into a character's wrists and legs, causing injury and bleeding; a girl is mentioned to have killed a man; scary memories and scenes are recalled several times with some brief detail.
Sex/Nudity: Minors kiss several times; minors are mentioned to make out at a party; a teen girl is raped and ends up pregnant, this is mentioned several times with one very brief scene of the girl recalling the rape in detail; sexual abuse is mentioned; a young girl recalls being molested by her uncle, this is mentioned several times with no detail except that she knew she was supposed to keep it under wraps.
Mature Subject Matter:
Abduction, death, family/personal crises, rape, molestation, pregnancy out of wedlock.
Alcohol / Drug Use:
Drug use is mentioned; teens drink alcohol at a party.
Reviewed By Lydia