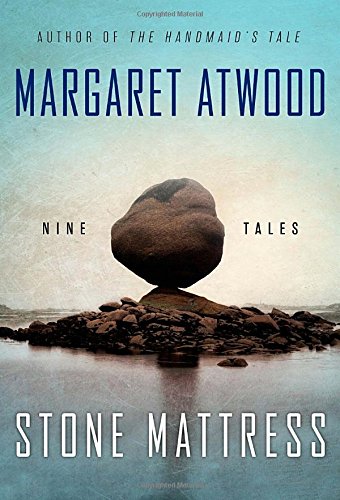 Publisher's Note:
A collection of highly imaginative short pieces that speak to our times with deadly accuracy. Vintage Atwood creativity, intelligence, and humor: think Alias Grace.

Margaret Atwood turns to short fiction for the first time since her 2006 collection, Moral Disorder, with nine tales of acute psychological insight and turbulent relationships bringing to mind her award-winning 1996 novel, Alias Grace. A recently widowed fantasy writer is guided through a stormy winter evening by the voice of her late husband in "Alphinland," the first of three loosely linked stories about the romantic geometries of a group of writers and artists. In "The Freeze-Dried Bridegroom," a man who bids on an auctioned storage space has a surprise. In "Lusus Naturae," a woman born with a genetic abnormality is mistaken for a vampire. In "Torching the Dusties," an elderly lady with Charles Bonnet syndrome comes to terms with the little people she keeps seeing, while a newly formed populist group gathers to burn down her retirement residence. And in "Stone Mattress," a long-ago crime is avenged in the Arctic via a 1.9 billion-year-old stromatolite. In these nine tales, Margaret Atwood is at the top of her darkly humorous and seriously playful game.
Stone Mattress: Nine Tales
by Margaret Atwood
Overall Review:
I don't know about you, but having recently read Atwood's MaddAddam, and years before that The Year of the Flood, it came as kind of a shock to see a book of short stories being published. I have a love/hate relationship with short stories, but the cover called to me, and Margaret Atwood is a fairly decent author so I thought "why not give it a try?" I enjoyed the first "story" in this book, and eagerly read on. Then things got weird.
I don't know what exactly happened, and why, but for some reason after the first story I just couldn't focus on this book. The stories didn't pull me in. I became a little confused after the first story when the second story mentioned a character from the first "tale", and then when this was repeated in the third one, but not in the fourth, I felt like I was missing something.
The first story made me think. I read about a woman who has recently lost her dear husband, and starts to hear the voice of her deceased husband. I started to ponder the idea of death, and what if it's real, but there is an alternate reality that the dead exist in, one that is so closely linked to our world that they feel as if they are still living a "real" life? Maybe that is where I got sidetracked. The rest of this book slid by quickly, but didn't make much of an impact on me. However, if you enjoy Margaret Atwood's writing, I would encourage you to give this new collection of stories a try.
This book is imaginative, and at times has a spark of humor about it. I think someone out there will find they are much more suited to it than I, they just have to discover it.
Content Analysis:
Profanity/Language: 1 religious exclamation; 2 derogatory names; 4 scatological words; 6 anatomical terms; 8 F-Word derivatives.
Violence/Gore: A character is mentioned to kill chickens; a character is mentioned to commit suicide; a woman's husband is mentioned to have passed away.
Sex/Nudity: Adults kiss several times; a man is mentioned to undress a woman; nudity with sexual innuendo is mentioned once briefly; pornography is mentioned in no detail; sex is referred to; an extramarital affair is mentioned
Mature Subject Matter:
Death
Alcohol / Drug Use:
Adults drink; smoking pot is mentioned; adults smoke cigarettes.
Reviewed By Lydia