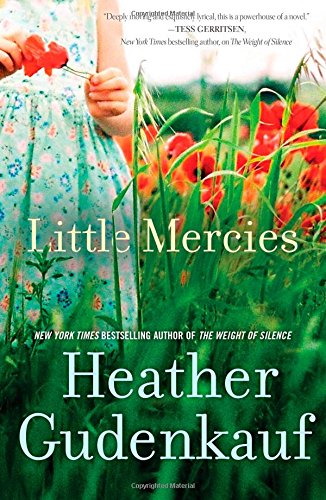 Publisher's Note:
In her latest ripped-from-the-headlines tour de force, New York Times bestselling author Heather Gudenkauf shows how one small mistake can have life-altering consequences…

Veteran social worker Ellen Moore has seen the worst side of humanity—the vilest acts one person can commit against another. She is a fiercely dedicated children's advocate and a devoted mother and wife. But one blistering summer day, a simple moment of distraction will have repercussions that Ellen could never have imagined, threatening to shatter everything she holds dear, and trapping her between the gears of the system she works for.

Meanwhile, ten-year-old Jenny Briard has been living with her well-meaning but irresponsible father since her mother left them, sleeping on friends' couches and moving in and out of cheap motels. When Jenny suddenly finds herself on her own, she is forced to survive with nothing but a few dollars and her street smarts. The last thing she wants is a social worker, but when Ellen's and Jenny's lives collide, little do they know just how much they can help one another.

A powerful and emotionally charged tale about motherhood and justice, Little Mercies is a searing portrait of the tenuous grasp we have on the things we love the most, and of the ties that unexpectedly bring us together.
Little Mercies
by Heather Gudenkauf
Overall Review:
I have read all of Heather Gudenkauf's books to date, and each and every one makes me a little bit prouder to be an Iowan because Heather lives here, and her books are good, as in Jodi Picoult-good, except not quite as wordy or technical. Little Mercies' release crept up on me, and I had no time to look at any reviews or summaries. That's alright because the surprise factor can often help make a story even better, as was the case with this book.
In Little Mercies there are two narrators: a little girl, Jenny, who has seen much in her short lifetime and is ready to escape from her harsh reality, and a middle-aged mother who is also a social worker and is about to have her life changed in a way she never could have imagined. Throughout the story the reader gets interesting perspectives from both points of view. I enjoyed gaining a sneak-peek into the social worker side of things. The horrors of family situations that they deal with in their job are astounding, and the author did a fantastic job of portraying the things that happen day-to-day in this line of work.
Several times throughout this book I felt like I knew what would happen next, and then the book took a completely different turn. This kind of writing keeps me on the edge of my seat, and makes for a very enjoyable read. The fact that this book is set in a fictional town in Iowa (a town that has a very similar name to a town I live near...hmmm, could it be very closely based on this town? I think so!) made me even more interested in this book. When I heard the name Dubuque mentioned I thought, "Yes! I know that town!" and even though as far as I know, Cedar City doesn't exist, it seems to be a lot like a town where I go once in a while to shop--a town that has shootings, child abuse, murders, and crime constantly. I recommend you pick up a copy of Little Mercies as soon as you can. This book is not one you should miss.
Content Analysis:
Profanity/Language: 3 religious exclamations; 4 mild obscenities; 3 derogatory names; 4 scatological words; 1 anatomical term; 1 F-Word derivative.
Violence/Gore: Child abuse is mentioned several times, with some brief examples of abuse; a child who is the victim of child abuse dies; violent situations are briefly mentioned several times; a child is left in a hot vehicle by accident, and as a result ends up in the hospital; a father is mentioned to molest his children, no detail is given; a woman is mentioned to shoot and kill her husband out of anger; a child is mentioned to have been murdered.
Sex/Nudity: Adults kiss several times; a man and woman live together before marriage, and get pregnant before marriage; making love is mentioned in no detail; a strip search is mentioned, clinical nudity briefly described.
Mature Subject Matter:
Death, murder, abuse, molestation, personal crises, pregnancy out of wedlock.
Alcohol / Drug Use:
Meth manufacturing and use is mentioned; adults drink; an adult is mentioned to be an alcoholic; adults smoke.
Reviewed By Lydia