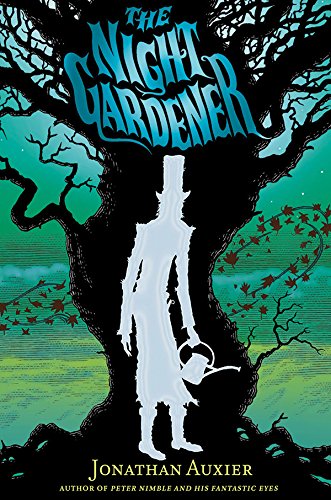 Publisher's Note:
This much-anticipated follow-up to Jonathan Auxier's exceptional debut, Peter Nimble and His Fantastic Eyes, is a Victorian ghost story with shades of Washington Irving and Henry James. More than just a spooky tale, it's also a moral fable about human greed and the power of storytelling.

The Night Gardener follows two abandoned Irish siblings who travel to work as servants at a creepy, crumbling English manor house. But the house and its family are not quite what they seem. Soon the children are confronted by a mysterious spectre and an ancient curse that threatens their very lives. With Auxier's exquisite command of language, The Night Gardener is a mesmerizing read and a classic in the making.
The Night Gardener
by Jonathan Auxier
Overall Review:
I hate scary stories. So, why, why, why did I pick up The Night Gardener? Peer pressure, pure and simple. There has been so much good buzz about this book that I felt it needed to be in our database. It was worth every word.
Let's be frank--this is a ghost story. It is at times terrifying and it is recommended that one only reads it in public places at high noon because the atmosphere is so powerful the heart starts to clench at times. Mr. Jonathan Auxier masterfully weaves a haunting legend, an endearing brother and sister, a historical setting, a struggling family, and a forbidding house into a brilliant novel. I was charmed by the unexpected strength of Kip and touched by Meg's devotion to her brother. There is much to be learned from this tale. What is your heart's desire? Be careful what you wish for.
Content Analysis:
Profanity/Language: 1 mild obscenity.
Violence/Gore: Two characters scuffle/fight briefly; three unique, extended, multi-page frightening/scary scenes; character says they had a frightening dream where their leg was bitten off by an animal; character thrown against wall; verbal threats; extended frightening scene and chase involving attempts to burn, being knocked unconscious; extended frightening scene involving injuries, grabbing, chasing, falling, and violent deaths of characters (non-detailed); non-detailed report of death of parents; scene in which characters are tied-up, struck, kicked in face, blood on face; non-detailed violent death of two characters; extended chase scene involving throwing of objects, fire, and destruction of a supernatural entity.
Sex/Nudity: A husband and wife kiss.
Mature Subject Matter:
Death of a parent, illness, orphans, poverty, speculation, paranormal activity.
Alcohol / Drug Use:
Adults drink wine/alcohol.
Reviewed By Cindy