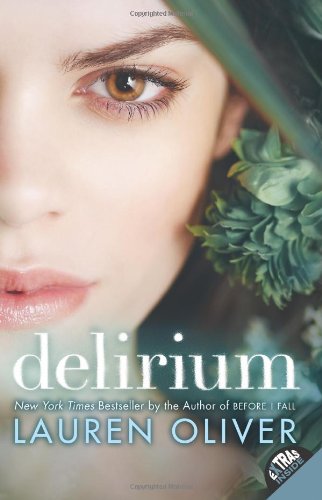 Publisher's Note:
Lauren Oliver's powerful New York Times bestselling novel Delirium—the first in a dystopian trilogy—presents a world as terrifying as George Orwell's 1984 and a romance as true as Romeo & Juliet.
In an alternate United States, love has been declared a dangerous disease, and the government forces everyone who reaches eighteen to have a procedure called the Cure. Living with her aunt, uncle, and cousins in Portland, Maine, Lena Haloway is very much looking forward to being cured and living a safe, predictable life. She watched love destroy her mother and isn't about to make the same mistakes.
But with ninety-five days left until her treatment, Lena meets enigmatic Alex, a boy from the Wilds who lives under the government's radar. What will happen if they do the unthinkable and fall in love?
Delirium received starred reviews from Kirkus and School Library Journal, and was named a Best Book of the Year by USA Today, Kirkus, Amazon.com, YALSA, and the Chicago Public Library and was selected as one of NPR's Top 100 Best Ever Teen Novels.
Supports the Common Core State Standards
Delirium
by Lauren Oliver
Overall Review:
Lauren Oliver has created an intriguing new dystopian setting with Delirium. Her characters are believable, and her writing is sublime. The idea that love is a disease from which all people need to be cured is one that provokes thought and has readers wondering what Lena will choose until the very end. Does the relief from pain warrant taking away bliss and desire? Lena struggles with her decision, and unlike with so many other dystopian heroines, it's easy to see why. She would be leaving behind all that is familiar and comfortable for the total unknown. This is not a decision to be taken lightly, which makes Lena a completely sympathetic character. Oliver treats the topic with grace and poetic style.
It was refreshing to not have to deal with a love triangle for once, but the love story was slightly lacking depth and realism. Other than that, the book was an exciting page-turner, and I look forward to the next installment in the series.
Content Analysis:
Profanity/Language: 20 religious exclamations; 7 mild obscenities; 2 derogatory names; 9 scatological words; 3 anatomical terms; 2 f-word derivatives.
Violence/Gore: A suicide is briefly described in some detail; a character is alleged to have committed suicide; reports of physical abuse with some detail; a fairy tale is related with creature violence; reports of police brutality; an electric fence is allegedly lethal to touch; a character is cut by a rock with little blood; a character is scratched while fighting to get away from medical personnel; a grieving character scratches at her own skin; a character throws a rock at a bully, causing mild injuries; an animal dies from blunt force trauma with some blood; report of a mauling by an animal with some detail; police break up a party and beat people with batons in an extended scene (3 pgs); a character has a violent dream about someone committing suicide; a character imagines historical scenes of war; a character relates some details of a surgery; a person is seen wearing blood-stained clothes; a character is violently apprehended by law enforcement; a character is sedated and restrained--restraints cause chafing and bleeding; in an extended chase scene (11 pgs), a character sustains multiple abrasions; a character is shot and presumed dead with some blood.
Sex/Nudity: A character is seen in a revealing hospital gown for an examination; characters talk about kissing; characters flirt a few times; characters kiss several times; a character caresses another character's face a few times; characters remove their shirts and caress each other; characters hug and cuddle a few times; characters talk about sex (non-detailed).
Mature Subject Matter:
Death of family members, disobedience to parents and the law, political intrigue, suicide.
Alcohol / Drug Use:
Underage characters drink and smoke briefly at a party; character sedated.
Reviewed By Leslie