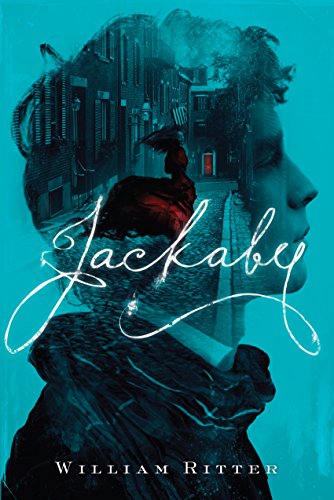 Publisher's Note:
"Miss Rook, I am not an occultist," Jackaby said. "I have a gift that allows me to see truth where others see the illusion--and there are many illusions. All the world's a stage, as they say, and I seem to have the only seat in the house with a view behind the curtain."

Newly arrived in New Fiddleham, New England, 1892, and in need of a job,Abigail Rook meets R. F. Jackaby, an investigator of the unexplained with a keen eye for the extraordinary--including the ability to see supernatural beings. Abigail has a gift for noticing ordinary but important details, which makes her perfect for the position of Jackaby's assistant. On her first day, Abigail finds herself in the midst of a thrilling case: A serial killer is on the loose. The police are convinced it's an ordinary villain, but Jackaby is certain it's a nonhuman creature, whose existence the police--with the exception of a handsome young detective named Charlie Cane--deny.

Doctor Who meets Sherlock in a debut novel, the first in a series, brimming with cheeky humor and a dose of the macabre.
Jackaby
by William Ritter
Overall Review:
Calling all Sherlock Holmes fans! Are you looking for a new and exciting series to start?--One that has a strong female as a main character and who is eager to start a brand new life solving crimes? Then let me introduce you to Jackaby, the first book in a series that, if this first installment is any hint at what is to come, will be quite the hit.
We are first introduced to Abigail Rook just as she is arriving in New England, and in desperate need of employment. But what is a young tomboy to do for work when she knows no one in this big city and she has no connections? Enter Jackaby, an elusive and peculiar man who just so happens to need an assistant that is as observant and spry as he is. Soon the two of them are partners who rely on each other for not only protection and detective skills, but friendship also.
This book was a cute one which I enjoyed immensely. It is a wonderful title that parent and young adults could enjoy discussing in-depth. I will be eagerly awaiting the next book in this series, and waiting for the chance to recommend this book to a fellow Sherlock fan.
Content Analysis:
Profanity/Language: 3 mild obscenities; 1 derogatory name; 2 anatomical terms.
Violence/Gore: A dead man is briefly described, some blood is mentioned along with the description of his chest being "ripped open"; blood is mentioned to be dripping to the floor from an injured person; several references do death, dead bodies, and blood; an animal is killed and blood is described; a child is mentioned to have run away from home to go on an adventure.
Sex/Nudity: None
Mature Subject Matter:
Magic/supernatural, death.
Alcohol / Drug Use:
Adults smoke; minors drink; adults drink.
Reviewed By Lydia